Pigeons International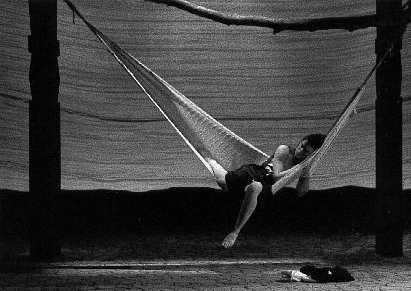 Geneviève Martin in
Paula de Vasconcelos
' Pigeons International production of Sam Shepard's
Cruising Paradise
(photo: Louis Taillefer)
Company in Montreal, Quebec, founded in 1987 by Paula de Vasconcelos and Paul-Antoine Taillefer, who have been co-artistic directors since the foundation.
Now internationally renowned for its research into multidisciplinary, often bilingual theatre, the company has also been responsible for bringing several notable artists to audience and critical attention, particularly Leni Parker and Sylvie Drapeau.
The company has created or recreated texts by Büchner, Shepard and Fassbinder including Du sang sur le cou du chat (1987), Le Réverbère (1990), its breakaway success Perdus dans les coquelicots (which has also been presented as Lost in the Poppies, 1991), Savage/Love (1994), The Making of de Macbeth (1996), Cruising Paradise (1998), Les Bacchantes(1999) and L'Autre (2001). In March 2014, Paula de Vasconcelos was choreographer and director for L'Architecture de la paix, with text by Evelyne de la Chenelière at Espace Go.
The company's style is highly visual and dance oriented with the text explored in terms that are more aesthetic than oral.
Since its creation, the company has participated in several world festivals including Festival Intercity. Les Bacchantes, appeared in the 1999 Festival de Théâtre des Amériques (now Festival TransAmériques).
Website: www.pigeonsinternational.com
Profile by Gaetan Charlesbois.
Last updated 2020-06-26