Red Sky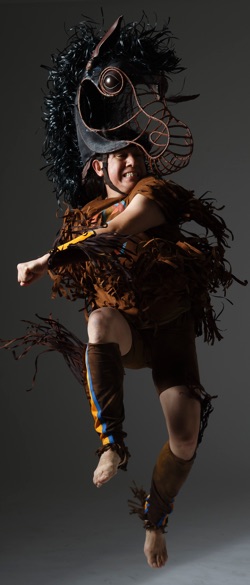 Carlos Rivera as Mistatim
Contemporary Indigenous performance company, based in Toronto Ontario, founded in 2000 by Artistic Director, Sandra Laronde. Red Sky creates works for dance, theatre, music, and multi-media.
Red Sky has collaborated with artists and performance companies in Canada and internationally, and has been instrumental in the artistic evolution and innovation of Indigenous performance. The Company has toured its productions since 2003, and mounted 2,755 performances across Canada and 198 international performances in seventeen countries on four continents.
Recent productions include: The Great Mountain (Young People's Theatre 2012), an eco-adventure play about a young girl who can hear the spirits of mountains and rivers; Raven Stole the Sun, a dance theatre work by Drew Hayden Taylor (Young People's Theatre ) based on a traditional Tlingit story; Mistatim by Erin Shields and Sandra Laronde (inaugural tour 2015), providing an insight into residential schools as a Cree girl and a white boy attempt to tame a wild horse. Caribou Song was written by Tomson Highway with music by Rick Sacks: "It tells the story of two Cree children in Canada's north who follow the caribou by dogsled with their family. When a herd of caribou thunders through their camp, the parents worry that their children have been trampled. Instead, the children find a way to magically embrace the spirit of the caribou" (website). Red Sky's premiere of Caribou Song (large orchestral version) was performed in February 2000 with the Scarborough Philharmonic Orchestra, then with 70 musicians of the Toronto Symphony Orchestra at the Roy Thomson Hall in February 2002. Backbone, conceived and directed by Sandra Laronde, is "a cutting-edge new dance and live music creation inspired by the 'spine' of continents. Featuring eight dancers, Backbone combines contemporary Indigenous dance with athleticism to express its power, formation and spirit" (website). It played at Canadian Stage for the 2017/18 season. Miigis is scheduled for production at Canadian Stage in January 2022.
Among Red Sky's awards are Dora Mavor Moore Awards for Outstanding Production for Tono (2010), and Mistatim (2016).
Red Sky offers community enrichment through "arts development revitalization projects, educational outreach initiatives, mentoring initiatives, artistic and community development through dialogue, lecture presentations, company classes, workshops, open rehearsals, and behind-the-scenes activities" (website). The Company also offers master classes.
Website: www.redskyperformance.com
Last updated 2021-10-14