Hair, Stephen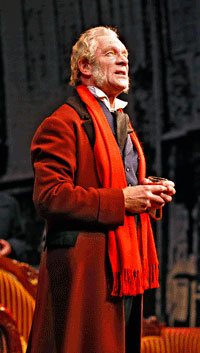 Stephen Hair as Scrooge, Theatre Calgary.
Versatile character actor and director, born in 1951 in Wolverhampton, England. Stephen Hair moved with his parents and older sister to Canada in 1957, first settling in Montreal. The family relocated to southern Ontario, and Stephen Hair studied drama at Queen's University in Kingston. He moved west to audition for a role in the newly formed Alberta Theatre Projects, and has been an important part of the Calgary theatre community since 1973.
He has been involved in over 280 productions in major theatres across Canada as actor or director, including the Shaw Festival in 1986; Citadel Theatre (Taming of the Shrew, Ben in Death of a Salesman); Alberta Theatre Projects (Old Eddy in Generations by Sharon Pollock 1980, The Drawer Boy 2001, a bilingual Saskatchewan Senator in Plan B by Stephen Heatley); Lunchbox Theatre; Vertigo Theatre (Mr. Borden in Blood Relations, for which he won a Betty Mitchell Award for supporting actor in 2012).
For Theatre Calgary, he has performed in seventy-three productions, including Of the Fields, Lately by David French; The Shoplifters by Morris Panych (2015); and The Crucible as Deputy-Governor Danforth (2015). He has played Ebeneezer Scrooge in Theatre Calgary's production of A Christmas Carol for twenty-seven years, always striving to make the role new and entertaining for his audience: "I've always wanted to find the true heart of the man. He's a businessman; he took some bad career paths, some bad life paths and made bad decisions, that's all." (Avenue 14 Dec 2011). In 2020, he undertook the role in a digital on-line version, when the Covid-19 pandemic closed theatres across Canada and the world. In 2017, he convincingly played the aged patriarch, Gampy, in the premiere of Blow Wind, High Water by Sharon Pollock.
He has also acted extensively in film and television.
From 1990-95 he was Artistic Director of Vertigo Theatre.
In 2006, Hair received the Betty Mitchell Award for Outstanding Contribution to Theatre, and in 2008, he was awarded the Martha and Harry Cohen Award for his "significant and sustained contribution to theatre in Calgary." In 2007, Theatre Calgary created the "Stephen Hair Emerging Artist Award" to support the careers of young actors, and to celebrate Hair's more than sixty performances on the Theatre Calgary stage.
Source: Martin Morrow. "From character actor to icon," ffwd 18 Dec 2003.
Profile by Anne Nothof, Athabasca University
Last updated 2021-11-30