Blyth Festival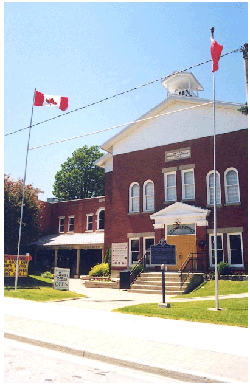 Blyth Festival
The Blyth Festival was founded in 1975 by James Roy, a native of Blyth and a graduate from the York University theatre programme, with the assistance of his wife, playwright Anne Chislett, and Keith Roulston, editor of the town newspaper, in the small rural community of Blyth in southwestern Ontario. Its mandate was "to give voice to our region and the country," and it has produced over 200 Canadian plays since its inception as a professional summer theatre, of which 135 were born and developed at Blyth. More than half of these new plays have gone on to second or multiple productions across the country, and in some cases to many other countries, including Japan, Australia, Singapore, Great Britain, and Croatia. Plays developed at the Blyth Festival have won Governor Generalís Award and a number of Chalmers Awards. In 1997, the Blyth Theatre Company was awarded the Herbert Whittaker Award for Distinguished Contribution to Canadian Theatre by the Canadian Theatre Critics Association.
The Festival also hosts and presents professional plays and concerts in the winter season with particular emphasis on programming for high school and public school students. It plays to audiences of between forty and fifty thousand annually. In addition, the Blyth Centre for the Arts includes a professional art gallery, and professionally led choir and orchestra.
Blyth productions were originally aimed at local townspeople and the farming community, but the audience has grown substantially to include Canadians from across the country, and American visitors who combine a trip to Blyth with a visit to the Stratford Festival.
Early plays were collective creations, influenced by the success of The Farm Show, created by Paul Thompson with a group of young actors in nearby Clinton in 1972. Paul Thompson has devised many plays from Blyth since its inception, including The Outdoor Donnellys in 2002, based on James Reaney's trilogy, The Donnellys. For the 2003 season, Thompson devised a musical entitled The Hippies; and for 2016, he co-wrote a sequel to the Donnelly story with Gil Garratt, entitled The Last Donnelly Standing.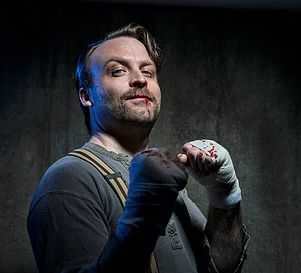 Gil Garratt, Blyth Festival Artistic Director, in The Last Donnelly Standing
Other Theatre Passe Muraille actors who have contributed to new play development and administration at Blyth include Janet Amos (Artistic Director until 1984), actor David Fox, and actor/playwright Ted Johns. For the 2000 season, David Fox performed in The Drawer Boy by Michael Healey, a play based on the creation of The Farm Show, which has been produced across the country and in the United States, and was remounted to sellout audiences in 2002.
In 2013, Blyth featured a collective creation inspired by The Farm Show, entitled Beyond the Farm Show, the stories of contemporary farm families in Huron County.
Ted Johns has also made regular contributions to the Festival; e.g., The School Show in 1978, St. Sam and the Nukes in 1980, He Won't Come in from the Barnin 1981. In the 2003 season, he again performed in his own play, Barnboozled: He won't come in from the Barn, Part II--a reflection on modern farming--with his wife, Janet Amos.
From 1998 to 2002 Anne Chislett was the Artistic Director of the Blyth Festival. Her play, Quiet in the Land premiered at Blyth in 1981. The Tomorrow Box also premiered in 1981, and was remounted in 1983. Her more recent work, a musical entitled Perilous Pride's Daughter premiered at Blyth in the 2003 season. The comedies of Colleen Curran have also been regular features at Blyth, including Cake-Walk in 1984, and Villa Eden in 2003.
The Artistic Director from 2003 to 2012 was Eric Coates. He had been involved with the Festival for eighteen seasons as an actor and director. As AD, he programmed a wide range of works by notable Canadian playwrights: Ken Cameron (Dear Johnny Deere 2012 and Harvest 2008); Robert Clinton (The Mail Order Bride 2009); Michael Melski (Hockey Mom, Hockey Dad (2009); Michael Healey (The Nuttalls 2009); Gary Kirkham (Pearl Gidley 2010 and Falling: A Wake 2013); Leanna Brodie (The Book of Esther 2010); Clem Martini and Cheryl Foggo, The Devil We Know 2012); and Beverley Cooper (Innocence Lost: A Play about Steven Truscott 2008 and 2009, and The Lonely Diner: Al Capone in Euphemia Township 2012).
Peter Smith was Artistic Director from 1990-93, and interim AD for the 2013 season, which included Blyth Festival creator-in-residence Marie Beath Badian's sitcom, Prairie Nurse. Set in the 1960s in the hospital of a small town in Saskatchewan, and inspired by her motherís own immigrant experience, Badianís play shows how the locals respond to the arrival of two young nurses from the Philippines .
In 2014, Marion de Vries became Artistic Director. For the fortieth anniversary season, she programmed her own country musical, Kitchen Radio about a lonely banker's wife in a new town; Billy Bishop Goes to War (dir. Janet Amos); Stag and Doe by Mark Crawford (dir. Miles Potter); St. Anne's Reel by Gil Garratt (dir. de Vries).
Since 2014, playwright, director, and dramaturg Gil Garratt has been the Artistic Director, programming topical and entertaining new Canadian plays. For the 2017 season, Blyth featured three world premieres about the rich history of Huron County: Ipperwash, by First Nations author Falen Johnson, which tells how Native land along Huron Lake was confiscated and then finally returned seventy years later: An Anishinaabe veteran who returns to Canada traumatized from her tour in Afghanistan undertakes to clean up the dangerous and environmentally toxic ordinance left behind by the military on the land they had seized. The Pigeon King, a collective creation by the Blyth company, is the story of a local pigeon-ponzi scheme.; Mr. New Year's Eve: A Night With Guy Lombardo by David Scott (dir. Gil Garratt), about Lombardo's musical beginnings at a grandstand in Grand Bend, Huron County. The season also included The Berlin Blues by Drew Hayden Taylor (dir. Brad Fraser).
The 2018 season included three world premieres. In The New Canadian Curling Club by Mark Crawford (dir. Miles Potter), sponsored Syrian refugees in a small town in Southwestern Ontario are offered a "Learn to Curl" program, which also attracts newcomers from other countries. The instructor, however, a Zamboni driver and former champion curler, has some negative opinions about immigrants, which require amelioration. In Judith: Memories of a Lady Pig Farmer, based on the 1978 novel by Aritha van Herk and adapted by Heather Davies (dir. Jennifer Brewin), a young woman returns to the family farm from the city and discovers the meaning of home. Wing Night at the Boot, a collective creation by the Blyth company (dir. Severn Thompson), celebrates the 141-year history of the Blyth Inn. The season also included 1837: The Farmers' Revolt by Rick Salutin (dir. Gil Garrett), a reprise of the play which was produced in Blyth in 1974, and helped inspire the creation of the Festival.
Productions for 2019 included: the premiere of Jumbo by Sean Dixon, about the demise of the famous Barnum circus elephant in Ontario in a 1885 railway accident (dir. Garratt); Cakewalk by Colleen Curran (dir. Kelli Fox) about a local furore sparked by a cake baking competition on Canada Day; The Team on the Hill by Dan Needles (dir. Severn Thompson); In the Wake of Wettlauffer by Kelly McIntosh and Gil Garratt (dir. Garratt), about the emotional challenge of moving an elderly parent to a long-term care facility; and Bed and Breakfast by Mark Crawford (dir. Ashlie Corcoran). The 2020 season was cancelled when theatres across Canada and the world were closed because of the Covid-19 pandemic.
Memorial Hall, built between 1919 and 1921 has been the main theatre for the Festival since its inception. In 1979 it was extensively restored and a new wing added in 1980 to accommodate a box office, dressing rooms, and art gallery. The theatre has 491 seats, and is frequently sold out. Another renovation began in Fall 2016. In 2021, to enable productions during the Covid-19 pandemic, Blyth constructed an outdoor stage in an abandoned soccer field. The Harvest Stage is a flat thrust of pressure-treated wood resembling a large diamond-shaped patio, with two solid back walls made out of recycled shipping containers, which can be used as performance spaces and backstage production units. Five solo shows were featured on the Harvest Stage from August to October, including Jewel by Joan MacLeod.
Website: www.blythfestival.com
Sources: Ross Stuart. The Oxford Companion to Canadian Theatre. Toronto: Oxford UP, 1989.
Robert Reid. The Record. www.therecord.com/entertainment
Profile by Anne Nothof, Athabasca University
Last updated 2021-10-22