Chan, Marjorie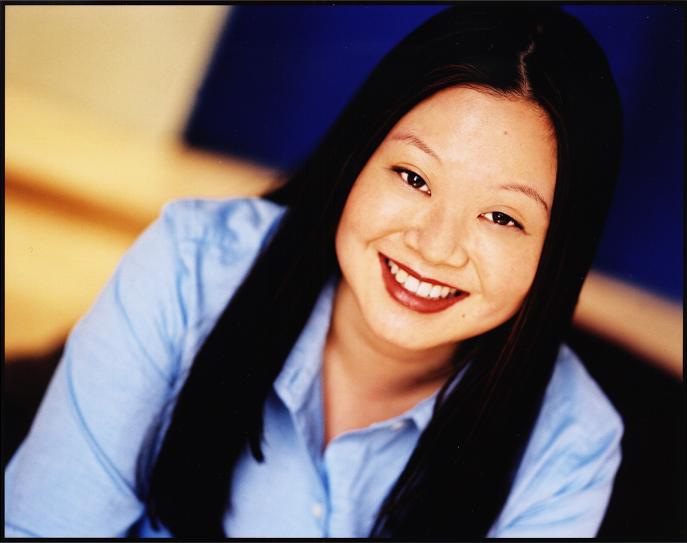 Photo by Pierre Gautreau.
Writer, actor, director Marjorie Chan is a based in Toronto, Ontario. She graduated from the Actor Conservatory at George Brown Theatre School, where she was awarded the John Bannerman Prize for Most Promising Performer. She has acted for theatre companies such as Daniel MacIvor's da da kamera, Canadian Stage, Factory Theatre, Theatre Passe Muraille, Grand Theatre, Young People's Theatre, and the Vancouver Playhouse. In 2011 she appeared in David Yee's Paper Series.
She has also voiced numerous radio dramas for CBC Radio, and has appeared in film and television. She was the recipient of a Dora Mavor Moore Award (Theatre for Young Audiences – Outstanding Performance.)
Her first plays were written for the CBC, including Rabbit Box and Spring Arrival, which is published in the anthology of radio plays entitled Where is Here? The Drama of Immigration (Scirocco 2005). She developed her writing skills in the Radiophonic Workshops held at the Banff Centre for the Arts (2002 and 2003.) Her screenplay Spring Arrival was a finalist for the Innoversity 2002 Open Door Pitch Contest.
Her first stage play, entitled 0, was developed at the Banff Playwrights Colony 2003. In 2004 Nightwood Theatre produced China Doll at the Tarragon Theatre Extra Space. Marjorie played the role of the young protagonist, Su-Ling, who escapes from a restrictive traditional marriage in China in 1918. It was published by Scirocco (2004), and nominated for a Governor General's Award. It was produced in Cantonese in 2017.
A Nanking Winter was presented by Nightwood Theatre in association with Cahoots Theatre Projects at the Factory Theatre in March 2008. It recounts the horrific story of mass rape and murder in Nanking by occupying Japanese forces in 1937, from the perspective of a young woman writer in the 1990s, who is determined that the truth be told.
Madness of the Square premiered at Factory Theatre in April, 2009 (dir. Ruth Madoc-Jones). Four young friends find that they are unlikely revolutionaries in the 1989 student demonstrations at Tiananmen Square, Beijing, which tests their friendship and their beliefs.
She also written libretto for opera. Sanctuary Song, with music by Abigail Richardson Schulte, premiered at Theatre Direct, and remounted at the National Arts Centre in the 2012-13 season. M'dea Undone (with Scots composer John Harris), which re-configures Madama Butterfly as the revenge tragedy, Medea was produced by Tapestry Opera in May 2015. It was awarded a Dora Mavor Moore Award in 2016.
Lady Sunrise premiered at the Factory Theatre in February 2020 (dir. Nina Lee Aquino). Set in Canada's high-rise condo and casino playground of Vancouver, it takes a caustic look at social climbing and social disintegration among the wealthy elite in Vancouver's Asian Canadian community through the lives of six Asian Canadian women.
Her works for the stage have been performed in the United States, Scotland, Hong Kong, Russia and across Canada.
Chan has participated in Factory Theatre's Playwrights Lab, and has been Playwright-in-Residence for Theatre Direct. She was Senior Playwright-in-Residence at Banff Playwrights Colony.
As Associate Artistic Director of Cahoots Theatre Projects from 2006 to 2010, she created Crossing Gibraltar, a theatre training and performance program for refugees and newcomers, for which she was nominated for a Canadian Citizen Award in 2010. She also produced a tour reading and outreach series to Hong Kong, under the LIFT OFF! banner in 2006. From 2013 to 2019, she was Artistic Director of Cahoots. In July 2019, she assumed the position of Artistic Director at Theatre Passe Muraille. Her objective is to eliminate walls that separate and differentiate groups and individuals in the community and in theatre practice.
Marjorie Chan has served as a mentor for the AMY Project - Artists Mentoring Youth - which encourages leadership and creativity in young people. While Play Creation Unit Director for Carlos Bulosan Theatre from 2010-2012, she mentored writers from a Filipino background. She has also been an Artist-in-Residence at the Banff Playwrights' Colony, Tapestry New Opera, Theatre Direct, SUNY (Geneseo, New York), Theatre du Pif (Hong Kong) and Cahoots Theatre.
She is the recipient of four Dora Mavor Moore Awards: three as a librettist and one for performance. She is also the recipient of the 2005 K.M. Hunter Artist's Award in Theatre; a Harold Award for her contribution to the Toronto theatre community; and the 2017 George Luscombe Mentorship Award. In 2020, she was the winner of the Bra D'Or Award recognizing her efforts in supporting and promoting the work of Canadian women playwrights.
Website: www.marjoriechan.com
Source: Cahoots Theatre website
Profile by Anne Nothof, Athabasca University
Last updated 2020-10-27