Cone, Tom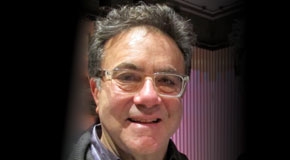 Tom Cone
Playwright, librettist, and teacher, born in Miami, Florida, March 25, 1947, died in Vancouver British Columbia on April 5, 2012 of cancer.
He grew up in what he called "a very southern, Jewish environment," and made his theatrical debut as an actor at six years old. He graduated with a B.A. from Florida State University, and studied in Italy for a year before coming to Canada in 1970, enrolling in Simon Fraser University's Communication program. His first two plays, There (1972) and The Organizer (1973) premiered at SFU.
Since 1973 he was closely associated with the New Play Centre (now Playwrights Theatre Centre), and from 1978 to 1980 he was playwright-in-residence at the Stratford Festival.
His plays have been produced across the country: Whisper to Mendelsohn (Playwrights Theatre Centre 1975); Shotglass (PTC 1977); Veils (Playwrights' Workshop 1974); Herringbone (Playwrights' Theatre Centre, 1975, subsequently performed in 1978 at Festival Lennoxville in an expanded two-act form, starring Eric Peterson); Stargazing (Stratford Festival, 1978).
He has also adapted classical texts, such as Moliere's The Imaginary Invalid (Westcoast Actors' Society, Vancouver, 1975), with lyrics by John Gray, and directed by Gray; and Goldoni's Servant of Two Masters (Stratford Festival 1980, dir. Peter Moss).
His librettos include: The Architect (1994) for Vancouver Opera; The Gang for Vancouver New Music; and the Leslie Uyeda opera Game Misconduct (Vancouver Playhouse 2000).
He is founder of innovative arts projects such as Songroom - a salon for new song collaborations, and CABINET, Interdisciplinary Collaborations - an experimental arts collective.
Many of his plays enact memories as the characters' search for meaning in their worlds. They are riding a fault line, about to make a change which may result in tragedy. Although his early works were influenced by the absurdist drama of Beckett and Pinter, he claimed Chekhov as his biggest mentor, and he endeavoured to stretch existing dramatic forms through the integration of music and dance. Stargazing is written like a string quartet, combining four different personalities speaking four different tongues in the same language, and is structured in several movements.
In March 2012, he received the Mayor's Arts Award for Lifetime Achievement.
Source: Robert Wallace and Cynthia Zimmerman eds. The Work: Conversations with English-Canadian Playwrites. Toronto: Coach House, 1982.
Last updated 2014-01-03