Ashperger, Cynthia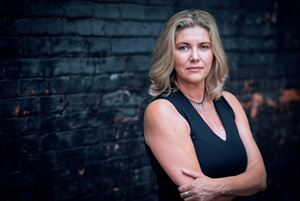 Cynthia Ashperger. Photo by Christian Lloyd.
Actor, director, teacher, playwright based in Toronto, Ontario, Ashperger is a tenured professor of acting at Ryerson School of Performance in Toronto, where she has taught since 1994, and headed the program from 2004 to 2018. Her undergraduate degree is from the Academy for Theatre, Film and Television in Zagreb, Croatia (former Yugoslavia), and she holds a PhD from the Graduate Centre for Studies in Drama at University of Toronto. She also studied with the Michael Chekhov Association and is a certified teacher of the Chekhov technique. Her publications on the Chekhov technique include a chapter in the Routledge Companion, and a book entitled The Rhythm of Space and the Sound of Time (Rodopi: Amsterdam and New York, 2008). She has lectured and/or directed nationally and internationally in Australia, Croatia, England, Finland, Germany, Holland, Japan, Korea, and Serbia.
Ashperger founded playinc. theatre company in 2008 and was appointed A.D. of TheatreWorks in 2019 (both in Toronto, Ontario).
She believes that the function of theatre is educate, entertain and enlighten while connecting people from different cultures. Her focus on methodology in rehearsal includes extensive improvisation through audio play-back technique combined with Chekhov Technique. She is also very interested hybridizing Western theatre practices with other methods. Playinc. theatre's radical interpretation of Jon Fosse's A Summer's Day (2009) used both Balinese mask and Butoh dance with Western realistic style to positive audience and critical reception. The masks for this production were commissioned by foremost Balinese mask maker Ida Bagus Anom.
Ashperger has acted in many new Canadian works. She has a strong artistic connection with dramatist Judith Thompson and was a part of development and played a leading role in her recent works Who Killed Snow White (4th Line Theatre), and Electra in Bosnia. She was nominated for a Dora Mavor Moore Award for acting in Feral Child written and directed by Jordan Tannahill (2013). For her work on film she was nominated for Canadian Screen Award in 2016 (The Waiting Room).
She writes under the nom de plume Lola Xenos. Her book and lyrics for the musical comedy Foreign Tongue examine the stereotypes connected to speaking with accents, and foreground audible minority issues. Foreign Tongue was developed through the Faculty of Communication and Design at Ryerson University, premiered at The Next Stage Theatre Festival (Factory Theatre 2019) and was published by Playwright's Canada Press the same year in a volume edited by Yana Meerzon titled Scripting (Im)migration.
Last updated 2019-10-04