Elliot, Lorne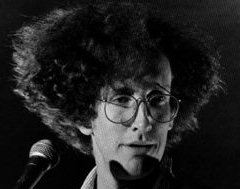 Lorne Elliot
Quebec-based comic, playwright, singer/songwriter, and novelist, born in Montreal in 1952. He studied marine biology while performing folk-guitar as a sideline. He made his first appearance in 1970 at a coffee house in St. John's, Newfoundland.
In 1982, Lorne Elliott founded his company, Productions Turtle Pond Theatre, which went on to produce the plays, revues and solo shows he created. Plays include: Culture Shock (1981), The Night the Racoons Went Berserk (1983), Jesus Murphy (1984), Evening Out (1985) and The Pelley Papers (1992). Racoons... won the award for the best new play at the 1983 edition of the Quebec Drama Festival. His latest musical play, Jamie Rowsell Lives, won the 2012 Playwrights Guild of Canada Award for Best Musical.
Lorne Elliott has toured his work (and his trademark hairstyle) across Canada, the United States and to Australia, and has performed often at the Just For Laughs festival as well as at comedy festivals in Chicago, New York, Vancouver and at the International Fringe Festival in Edmonton.
His humour is gently satiric and marked by the fact that he looks immensely approachable.
He was host of CBC radio's Madly Off in All Directions for eleven years, where he encouraged new talent.
He is also the author of a novella, The Fixer-Upper, and a novel Beach Reading, shortlisted for a Quebec Writers' Federation award.
Source: Bernard Perusse. "Funny he should say that," The Gazette: Montreal, 6 Dec 2001.
Website: www.lorne-elliott.com
Profile by Gaetan Charlesbois
Last updated 2020-08-24