Gryphon Theatre

Company in Barrie, Ontario, incorporated in 1970 to promote performing arts in the region and to develop professional theatre. The founding Artistic Director was Brian Rintouil, who came to Barrie from the University of Windsor. Subsequent ADs have included Sean Mulcahy, Ted Follows, Vernon Chapman, Virginia Rey, and James B. Douglas, who restored financial stability after he took charge in 1984.
The Gryphon Theatre began operations in the Collier Street United Church, before moving into the newly built Georgian College Theatre in 1973 (seating 675). At first it operated as a summer theatre, producing five works over ten weeks. It then expanded to include winter productions.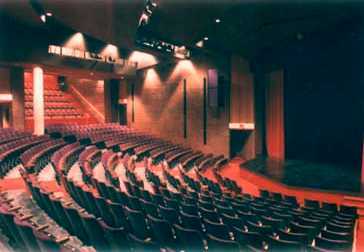 The Company produced mainly lighter fare, including musicals, and launched over seventeen world premieres.
Artists who have worked at the house include Ted Simonett, Peter Colley, Gordon Pinsent, Ron White, Dinah Christie, Famous People Players, Rod Beattie, and Allan Stratton.
Productions have included Wingfield Unbound, Keep the Porchlight On, Forever Plaid, and Move Over, Mrs Markham.
The Company had a paid staff of two, including the Artistic Director, and a volunteers guild.
The Gryphon Theatre Company no longer operates, and the Georgian Theatre, managed by the City of Barrie, hosts touring productions.
Last updated 2020-11-03