Thompson, Judith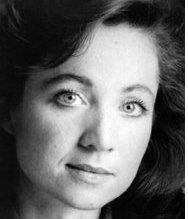 Judith Thompson
One of Canada's most highly regarded and prolific playwrights, born in Montreal, Quebec in 1954 and raised in the Roman Catholic faith.
A graduate of Queen's University with a B.A. in English (1976), and of the National Theatre School of Canada's acting section (1979), she worked only briefly as an actor before beginning to write.
She is particularly interested in the theories of Freud, and is more absorbed in the psychology of her characters than in their actions. All of her plays confront the horror and violence in modern society that is apparent to anyone who reads the newspapers or watches TV. She believes that everyone is capable of evil: there is within everyone "the other side of the dark." Many of her characters live precariously on the margins of society, threatening to disrupt the "normalcy" of a "civilized" society. They act irrationally, unpredictably, from strong feelings and fears.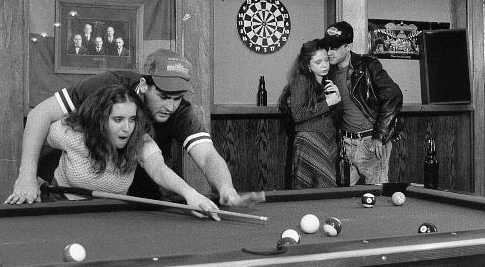 The 2001 Soulfishing production of
The Crackwalker
; l-r: Carol Hodge, Graham Cuthbertson, Paula Dawson, Jean-Sébastien Poirier (Montreal; photo: Gideon Dante)
Her plays are performed across the country in both official languages. Her first work, The Crackwalker (Theatre Passe Muraille 1980) grew out of her experience as a social worker with adult protective services, from monologues she wrote to express the character of a mentally challenged woman. It evokes the lives of dysfunctional and angry individuals in Kingston's lower depths, struggling to find a sense of security.
She has twice won the Governor General's Award for White Biting Dog (1984) and the anthology The Other Side of the Dark (1989); and the Chalmers Award for I am Yours (1987) and Lion in the Streets (1991).
White Biting Dog (1984), I Am Yours (1987), Lion in the Streets (1990), Sled (1997), Perfect Pie (2000), and Capture Me (2004) all premiered at the Tarragon Theatre, the company with which she had the closest links during the tenure of the Artistic Director, Urjo Kareda. Habitat played at Canadian Stage September, 2001. Enoch Arden "by Alfred Lord Jabber and his catatonic songstress" premiered at The Theatre Centre in 2005, and is a radical stylistic departure from Thompson's other plays: it is a musical based on a melodrama (1897) by Richard Strauss, in turn based on an epic poem by Alfred Tennyson (1864). Thompson places the characters in a Canadian half-way house for the mentally ill.
In 2008, the Canadian Stage Company premiered Palace of the End (dir. David Storch) on its Berkeley Street stage. It comprises a triptych of monologues about the horrors endured by individuals in Iraq, spoken by a young American soldier imprisoned for her misconduct in an Iraq prison camp; a British microbiologist and weapons inspector who reveals the false grounds for the British and American intervention; and an Iraqi mother who endures Saddam Hussein's horrific regime and the American invasion. Each monologue is inspired by real events and people, although the characters are imaginative creations.
Such Creatures (dir. Brian Quirt) premiered at Theatre Passe Muraille in 2010, thirty years after her first play in Passe Muraille's second space, The Crackwalker. In interconnected monologues, an Auschwitz survivor suffering from cancer, and an Indigenous girl from the urban jungle of Toronto, demonstrate courage and resilience in traumatic circumstances, their belief in a brave new world inspired by their love for the works of Shakespeare.
In 2013, The Thrill opened at the Stratford Festival (dir. Dean Gabourie). A feisty lawyer and activist for the rights of the disabled protests against the "right-to-die" movement by throwing a cream pie in the face of its infamous spokesman, initiating an unlikely love story.
RARE, enacted by individuals with Down syndrome in wheelchairs, opened at Young Centre for the Performing Arts in 2014, in a production by Thompson's own company, RARE Theatre. There is no fictional setting or characterization. The "play" closes with an appeal to end the practice of aborting fetuses with the marker for Down syndrome. Wildfire (2017) employed a hybrid theatricality of documentary theatre, autobiography, and a play-within-a play to interrogate conceptions of difference.
Thompson also collaborated with Soulpepper on the production of a series of nine short plays by nine women, Welcome to My Underworld, for which she was dramaturg and director (May, 2019). These solo performances were based on personal experiences of trauma. Her daughter, Grace Thompson, performed a piece about a young woman's reluctance to grow up, and her re-incarceration in a psych ward.
Watching Glory Die is about a chronically disturbed young woman in the Canadian prison system, who choked herself to death, while guards watched on a monitor. Thompson played the girl, her agonized adoptive mother, and a working-class prison guard prison guard who follows the rules but brings some humanity to the system, affording different perspectives on the same horrific event. The play was produced by the Canadian Rep Theatre Company and premiered at the Vancouver East Cultural Centre in April 2014 (dir. Ken Gass). It relocated to the Berkeley Street Theatre in Toronto in May.
Who Killed Snow White premiered at 4th Line Theatre in July 2018 (dir. Kim Blackwell). It examines issues of harassment, sexual violence, cyberbullying and teenage suicide from the perspectives of a mother/daughter relationship, played by Cynthia Ashperger and Grace Thompson; a gay friend with his own harassment problems; and a conflicted school friend. A chorus of young people from the community contributed to the sense of tragedy in the play.
Judith Thompson has written many radio plays, including Tornado (1987), which won the ACTRA award for Best Radio Drama, and White Sand (1991). She has also adapted and directed Ibsen's Hedda Gabler for the Shaw Festival (1991).
In 2007 she was awarded the Walter Carsen Prize for Excellence in the Performing Arts. The $50,000 prize, administered and presented by the Canada Council for the Arts, recognizes the highest level of artistic excellence and distinguished career achievement by Canadian artists who have spent the major part of their career in Canada in theatre, dance or music. In 2008 she was awarded the Susan Smith Blackburn Prize for Palace of the End. This American award celebrates outstanding plays in English by women. In 2012, she was awarded the Herbert Whittaker Award for Distinguished Contribution to Canadian Theatre by the Canadian Theatre Critics Association. She was awarded an Honorary Degree by Queen's University in November 2016.
Thompson has said of her writing, "I totally inhabit whichever character is talking...the story is just a costume draped over the characters."
She lives in Toronto with her husband and five children, and teaches at the University of Guelph.
An archival collection on this subject is available at the L.W. Conolly Theatre Archives at the University of Guelph, Ontario.
Profile by Anne Nothof, Athabasca University
Last updated 2021-09-20