Kramer, Greg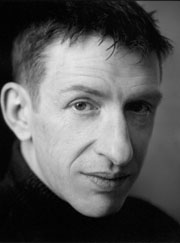 Greg Kramer
Actor/director/writer/magician, born in Hertfordshire, UK, 11 March 1961; died 8 April 2013 in Montreal. Greg Kramer trained at Mountview Theatre School, UK. He toured with Incubus Theatre in Europe in 1980-81 before emigrating to Vancouver in 1981. He spent seven years on the west coast, a decade in Toronto and since 1999, made Montreal his home.
His credits cover twenty-five years and well over one hundred productions across the country, including work at the Vancouver Playhouse, Arts Club Theatre, Theatre Passe-Muraille, the Globe Theatre, Buddies in Bad Times, Young People's Theatre, Théâtre Lac Brome, Centaur Theatre, Saidye Bronfman Centre, Crow's Theatre, Native Earth Performing Arts, and the National Arts Centre.
His novels The Pursemonger of fugu (1995), Couchwarmer (1997), and Wally (2004), and a collection of short stories, Hogtown Bonbons (1999) are all published by Riverbank Press, an imprint of Cormorant Press, As of 2006, he was listed in Canadian Who's Who.
Notable performances include the title role in Richard III (Firehall Theatre, Vancouver, 1984), Petruchio in Taming of the Shrew (Ottawa Shakespeare Festival, 1994), Gollum in The Hobbit (YPT, 2000), The Devil-dog in Peter Hinton's otherwise all-female production of The Witch of Edmonton (Harbourfront, Toronto, 1993), and a dying sailor in the Chalmers Award-winning Ditch (1994) by Geoff Kavanagh.
Directorial credits include Kit Brennan's Tiger's Heart at the Centaur Theatre (2004), an updated interpretation of Wilde's The Importance of Being Earnest (TLB, 2000), the documentary play Seeds (2005) and Peter Weiss' Marat ... De Sade which was nominated for Toronto's Dora Award (Outstanding Production) in 1991. In March 2006 he directed the premiere of David Sherman's, Have a Heart for the Centaur Theatre.
He is wrote a new play about Isadora Duncan, entitled Isadora Fabulist for Imago Theatre; and Sherlock Holmes for Segal Centre for Performing Arts, in which he was to play Inspector Lestrade at the time of his death.
Profile by Gaetan Charlebois
Last updated 2020-10-30