Leclerc, Félix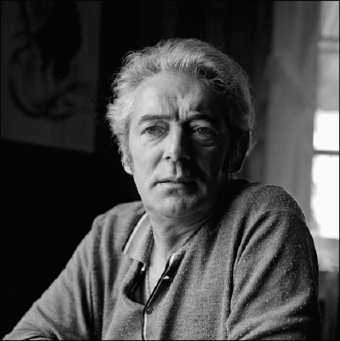 Félix Leclerc
Playwright/singer/songwriter born in La Tuque, Quebec in 1914. He died in 1988 on the Ile D'Orléans. Félix Leclerc studied classics for two years at the University of Ottawa, but was forced by lack of funds to leave before graduating. He became a radio announcer and broadcaster, embellishing his broadcasts with his own sketches, which facilitated his work as a scriptwriter and actor for Radio-Canada for seven years.
From 1942 to 1945, Leclerc acted with the Compagnons de Saint-Laurent, which produced his first play, Maluron, in 1942. His collection of songs and sketches, Le P'tit bonheur enjoyed wide popular appeal, performed over 300 times by the time of its publication in 1959 in Quebec and abroad.
However, following three years of training in Paris (1950-53), Leclerc was principally known as the folk-singer for the rising Nationalist movement in Quebec, as well as internationally.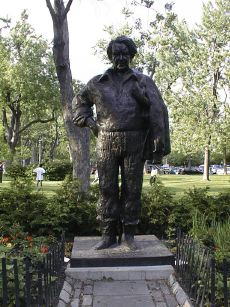 Roger Langevin's statue of Leclerc in Parc Lafontaine, Montreal (photo: Gaetan Charlebois)
His plays, written in language that is rich and image-laden, are gently satirical portraits of humanity, and the social taboos that still existed in Quebec prior to the Quiet Revolution. They include: La caverne des splendeurs (Salle du Gésu, 1949), Sonnez les matines (Théâtre du Rideau Vert at the Monument National, 1954), L'Auberge des morts subites (Salle du Gésu, 1963).
Profile by Gaetan Charlebois. Additional information from Jean LaFlamme. The Oxford Companion to Canadian Theatre, eds. Eugene Benson and L.W. Conolly. Toronto: Oxford UP, 1989.
Last updated 2020-02-27