Youssef, Marcus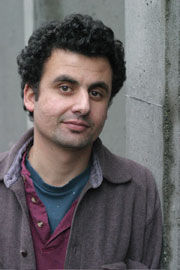 Marcus Youssef
Actor and playwright Marcus Youssef was born in 1969 in Montreal to an Egyptian father and Anglo-American mother. He graduated from the National Theatre School of Canada (Acting, 1992) and the University of British Columbia (M.F.A., 2002). He currently lives in Vancouver British Columbia with his partner Amanda and their sons Oscar and Zak.
In 1999-2000 he was Playwright-in-Residence at Touchstone Theatre in Vancouver, where his play, Otherwise Occupied premiered in 2001.
He has written fifteen plays, half of which are co-created. These include True Lies (with Guillermo Verdecchia), a multi-media play produced in 1993 by Rumble Theatre and Zababwa Theatre; The Adventures of Ali & Ali and the Axes of Evil (Neworld Theatre and Cahoots Theatre Projects 2004 (with Guillermo Verdecchia and Camyar Chai), and A Line in the Sand (with Guillermo Verdecchia) for the Playwrights Theatre Centre in Vancouver. It was also produced at the Tarragon Theatre and the World Stage Festival in Toronto in 1996, directed by Verdecchia, and won the Chalmers Award for best new play in 1997.
In 2010, he again collaborated with Verdecchia and Chai on an Ali sequel: Ail & Ali: The Deportation Hearings (Neworld and Factory Theatre). In a post-Bush Obama era, there should be some hope for change. Critic Christopher Hoile concludes however, that "when the real point of the show surfaces — the continued deaths of Canadians in Afghanistan and the detention of five men without trial in Kingston Penitentiary — all pretence of comedy drops" (Eyeweekly.com, 1 Oct 2010).
In 2012, he developed Winners and Losers with his friend, James Long. It pursues the ruthless logic of modern-day capitalism, and tests its impact on close personal relationships. Youssef and Long play an improv game in which they name things and people and debate whether, from a personal perspective, these things are winners or losers. It premiered at at Gateway Theatre in 2012 in a co-production by Neworld, Theatre Replacement and Crow's Theatre (dir. Chris Abraham), then toured to Britain and Ireland, returning to Canada with a production in Toronto by Crow's at the Berkeley St. Theatre (Canadian Stage). The play was nominated for a Governor General's Award in 2015.
In 2013, he performed a highly personal work which included his son, Zak, entitled How Has My Love Affected You? (Arts Club Theatre). It included his reading from the journals his mother left to him, reflecting their fraught relationship before her death.
In 2017, Youssef developed King Arthur's Night for Neworld, commissioned by the Luminato Festival, and written with Niall McNeil. The production featured a choir of twenty, a small band, and an integrated cast of professional actors and community actors from Down Syndrome Research Foundation in Burnaby BC. Youssef acted the role of Merlin, and McNeil (who has Down Syndrome) the role of Arthur.
The In-Between premiered on tour across Quebec and the Maritimes with Geordie Theatre in 2018; and East Van Panto: Wizard of Oz with Theatre Replacement.
Youssef has created installation performance events for HIVE's I and II, and the Vancouver Art Gallery. His works have been presented or produced across North America, Australia and Europe, translated into Czech and Italian, and are published by Talonbooks and Playwrights Canada Press.
For the CBC he has written and broadcast sketches, plays, commentaries and documentaries. He also writes for publications such as the Georgia Strait, and his short stories have been published in journals and anthologies.
As an actor he has worked with the Green Thumb Theatre.
Marcus Youssef was Artistic Director of Neworld Theatre in Vancouver for fifteen years. He continues his work with community-based advocacy programs that use writing and/or theatre as tools for effecting political and social change. In 2009, he co-founded Progress Lab 1422, a collaboratively managed rehearsal and production centre in East Vancouver. He is also Western Artistic Associate of Magnetic North Theatre Festival. He teaches and lectures across Canada: in 04/05, he was an Assistant Professor of Theatre and Community Development at Concordia University in Montreal. He currently is on the faculty at Capilano University; and sits on the advisory board of the Canadian Theatre Review. He is Chair of the City of Vancouver's Arts and Culture Advisory Council, where he advocates for the centrality of culture to Vancouver's urban future. He is senior playwright-in-residence at the Banff Centre for the Arts.
Youssef is wholly committed to exploring borders and margins -- the spaces which divide and alienate, in order to find commonalities and crossovers; and to telling the stories of those whose voices have been suppressed or unheard. In 2017, he was awarded the Siminovitch Prize in Theatre for his outstanding contributions to Canadian theatre as a playwright.
Profile by Anne Nothof, Athabasca University
Last updated 2020-10-26