McAuliffe, Kathleen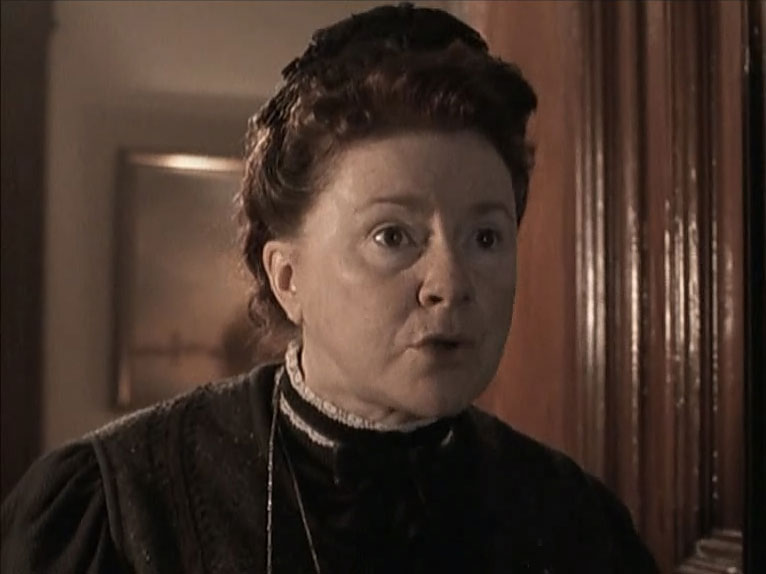 Kathleen McAuliffe as Mrs. Hudson in The Sign of Four.
Quebec-based actor born in Dublin, Ireland, where she began her theatrical career in the Gaiety, frequently appearing in musical theatre.
Kathleen McAuliffe came to Montreal in 1974 and worked in a restaurant revue. Since then, she has appeared at Centaur Theatre (The Gigli Concert, Dancing at Lughnasa, My Fair Lady, Oliver! in April, 2001); with the Lakeshore Players (Time Was); Theatre Lac-Brome; at the Saidye Bronfman Centre (Passion Play, Jeanne, Crazy For You); and Just For Laughs (The Underdogs).
She has also worked extensively in film and on television, including the role of Mrs. Hudson in three TV movies about Sherlock Holmes: The Royal Scandal (2001), The Sign of Four (2001), and The Curse of the Whitechapel Vampire (2002), with Kenneth Welsh as Dr. Watson, and Matt Frewer as Holmes.
Kathleen McAuliffe is a magnificent character actor with a delightful presence and distinctive voice.
Profile by Gaetan Charlebois.
Last updated 2021-12-09