McCarroll, Narda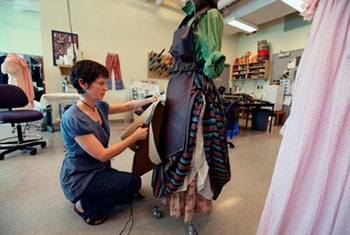 Narda McCarroll
Multi-talented set, lighting, and costume designer, based in Calgary Alberta, Narda McCarroll was born in San Francisco, and moved with her family to Lethbridge, Alberta when she was four. Her father taught in the visual arts department at the University of Lethbridge. She graduated from the University of Lethbridge with a BFA in acting in 1989. She then spent ten years working as an actor in Edmonton before switching gears and going back to school to study design. She graduated with an MFA in theatre design from the University of Alberta in 2000; she designed a production of Sharon Pollock's Doc as her MFA project.
Early in her design career, she was the resident designer for Workshop West Theatre, where she fell in love with working on new plays. She finds that "the challenge of discovering the world and style of a new play is always exciting, extremely rewarding and usually a bit scary." She also loves the collaborative nature of theatre, and is drawn to projects that embrace theatricality and style. For Workshop West, she designed lights for The Red Priest by Mieko Ouchi; Apple by Vern Thiessen; Mesa by Doug Curtis; Respectable by Ron Chambers.
Among her many design credits for the Citadel Theatre are: costume design for Einstein's Gift by Vern Thiessen (2003); production co-design with Bretta Gerecke of Vimy by Thiessen (2007); set/lights for True Love Lies by Brad Fraser (2011); costumes for The Penelopiad (2013) and Julius Caesar.
For Theatre Network's production of 17 Dogs by Ron Chambers (2003), McCarroll provided "a home full of authentic car junk, and layers of grunge" (Liz Nicholls, Edmonton Journal 12 Oct 2003). She designed the set for Eye for an Eye by Doug Curtis; set and costumes for For the Pleasure of Seeing Her Again by Michel Tremblay; and set and costumes for Lawrence and Holloman by Morris Panych.
She has designed hundreds of imaginative and colourful costumes and many innovative sets and lighting for Free Will Players Shakespeare Festival productions for sixteen seasons.
Alberta Theatre Projects credits include: production design for Red, and Mary's Wedding; lights for The Wizard of Oz, Shakespeare's Dog, The Drowning Girls by Beth Graham, Charlie Tomlinson, and Danielle Vlaskalic, and for Gracie by Joan MacLeod; set/lights for Rabbit Hole, Plan B by Michael Healey (2003), and The Circle by Geoffrey Simon Brown (2015); set/costumes for Vincent in Brixton, Stones in His Pockets, and The Boy's Own Jedi Handbook by Stephen Massicotte (2003). In 2017, she designed the set and lights for To the Light by Evelyne de la Cheneliere. In 2018, she designed the set for Glory by Tracy Power, in which Canada's first women's hockey team takes to the ice.
McCarroll has designed set/lights for Sweeney Todd and The 39 Steps (Vertigo Theatre); set/costumes for The Trespassers (Belfry Theatre and Vancouver Playhouse); lights for the national tour of The Drowning Girls; and set for Blow Wind, High Water (Theatre Calgary 2017). In 2018, she designed the set for the premiere of Bronte: The World Without by Jordi Mand at Stratford Festival.
For Edmonton Opera, she designed the lighting for Rossini's Count Ory (2019).
She is the recipient of four Sterling Awards: set and lights for Vimy; set for Lawrence & Holloman); and costume design for Elephant Wake (2015). She has also received three Betty Mitchell Awards: lights for Mary's Wedding, for The Drowning Girls, and Into the Light (2018), all at ATP, and she has been nominated many times for both Sterling and Betty Mitchell awards.
In 2012 McCarroll designed costumes for her first feature film, Cut Bank, which stars John Malkovich and Billy Bob Thornton.
Website: www.narda.ca
.
Last updated 2021-09-20