Armour, Norman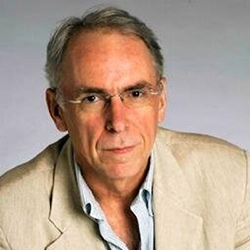 Norman Armour
Innovative Vancouver stage director, born in 1959. Norman Armour is a graduate of the School for Contemporary Arts at Simon Fraser University.
In 1990, with Chris Gerrard-Pinker, he founded Rumble Theatre. He has directed acclaimed productions of Blackbird (2009), San Diego (2005), Soulless (2004), Hedda Gabler (2003), Designated Mourner (2003), Three in the Back, Two in the Head (2001), and War of the Worlds (2000).
With Katrina Dunn, Armour was a co-founder of the PuSh International Performing Arts Festival in 2003. He was Artistic and Executive Director until 2018, when he undertook a new role consulting for the Australia Council for the Arts.
In May 2014, at Vancouverís York Theatre, Armour directed the world premiere of Pauline, a chamber opera based on the life of Canadian poet Pauline Johnson (1861-1913) by City Opera Vancouver, which featured an original score by Canadian composer Tobin Stokes and libretto by Margaret Atwood.
He has received many Jessie Richardson Award nominations, including for Outstanding Director (Blackbird) and Outstanding Artistic Achievement (PuSh Festival). Other awards include the Queen Elizabeth II Diamond Jubilee Medal, and the Vancouver Merit Award (2013).
Last updated 2019-02-26