The Chop Theatre
Collective theatre company, founded in 2004 and based in Vancouver British Columbia. The creative artists are Emilia Symington Fedy and Anita Rochon, both of whom are actors, writers, and directors, and graduates of Studio 58 in Langara BC.
The Chop Theatre began working with clown technique in 2002 to develop three monologues entitled Patti Fedy Trilogy. It now focuses on developing new works based in community interaction, in collaboration with other companies and individuals from across the country, including: 2 Truths + 1 Lie = Proof (HIVE 2006, co-produced with Rumble Theatre); Townsville (Magnetic North Theatre Festival 2008); Kismet: One to One Hundred (Magnetic North 2011); and How to Disappear Completely (Chutzpah Festival 2011), in collaboration with playwright/ performer/ lighting designer Itai Erdal. This tour-de-force show is part autobiography, part live theatrical lighting demonstration, telling the story of a son helping his mother in her struggle against cancer. It has toured internationally, including stops in Vancouver, Seattle, Portland, Toronto, Halifax, and the Stratford Festival.
In August 2019, The Chop presented Pathetic Fallacy at the Edinburgh International Fringe Festival. It examines our changing relationship to weather in terms of the response of one person, a different one for each performance, selected from the Fringe participants. "This piece questions the value of emotion in the face of a coming storm" (website). The performer receives all his or her staging instructions live, standing in front of a temperamental broadcast media green screen. Pathetic Fallacy has toured to FoldA, Darwin Festival, Offta & Farnham Maltings. In November 2020, Pathetic Fallacy was live-streamed across Canada, when theatres were closed because of the Covid-19 pandemic.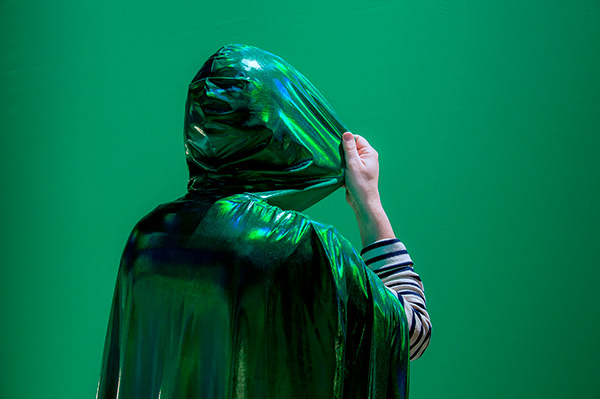 Promotional photo of Pathetic Fallacy
Web site: http://thechoptheatre.com
Last updated 2020-11-27