Theatre Baddeck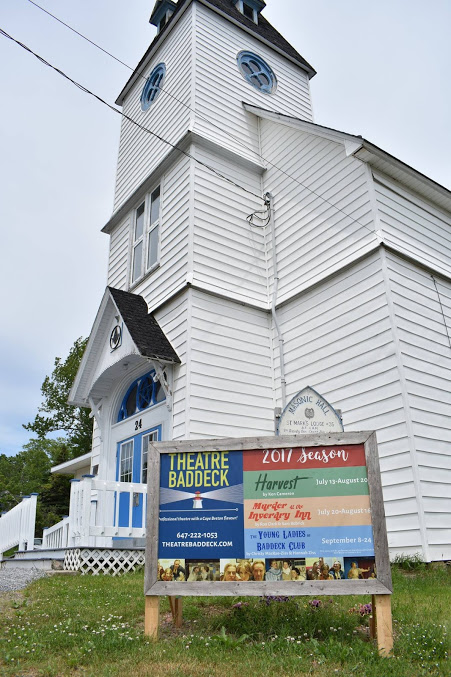 Theatre Baddeck
Professional, non-profit theatre company based in Baddeck, Cape Breton, Nova Scotia. Theatre Baddeck began operations in 2014. It mounted its first summer season in 2015 with the historical fiction comedy The Young Ladies of Baddeck Club by founders and Co-Artistic Producers Christy MacRae-Ziss and her daughter, Hannah Ziss, both of whom had worked previously with Lost & Found Theatre in Kitchener-Waterloo.
Its mission is to enrich Victoria County and Cape Breton Island culture with a high quality, professional theatre experience, and to entertain visitors to Victoria County with stories that offer a distinct local flavour such as Murder at the Inverary Inn by Sam Bobrick and Ron Clark (2017), Dancing on the Elephant (2018) by Lisa Hagen (set in a retirement home), and He'd Be Your Mother's Father's Cousin (2019) by Mary-Colin Chisholm; plus Canadian comedies with a twist such as Harvest (2016 and 2017) by Ken Cameron, The Ladies Foursome (2018) by Norm Foster, Pocket Rocket by Lea Daniel and Gary Kirkham (2018, directed by Linda Moore), Sexy Laundry by Michele Riml (2019), and The Shoplifters by Morris Panych. In 2019, the season included Outside Mullingar by John Patrick Shanley (2021).
Theatre Baddeck has been nominated for five Merritt Awards (and won two) for achievements in professional theatre in Nova Scotia.
The Company performs in the Baddeck Masonic Hall.
Website: www.theatrebaddeck.com
Last updated 2021-11-30