Transit of Venus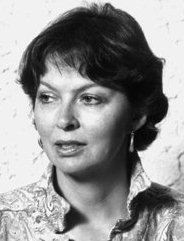 Maureen Hunter
Drama in three acts by Maureen Hunter, premiered at Manitoba Theatre Centre, November 26, 1992. Directed by Larry Desrochers, set and costumes by Doug Paraschuk, lighting by Graeme S. Thomson, stage managed by Chris Pearce, assisted by Allan Teichman. It featured Jim Mezon, Duncan Ollerenshaw, Donna Goodhand, Larissa Lapchinski and Joyce Campion. It was subsequently performed across the country, notably at Theatre Calgary with Joan Orenstein; at Canadian Stage, directed by Richard Rose; and at Workshop West Theatre in a co-production with the University of Alberta's Studio Theatre in 1999. It was the first Canadian play to be performed by the Royal Shakespeare Company in Great Britain, and it was recorded by BBC Radio. It has also been translated into Danish. In November 2007, it was produced as an opera by Manitoba Opera, with libretto by Hunter and music by Victor Davies.
If one aspect of the art of Canadian playmaking is observing small budgets and keeping the canvas small and the characters few, then this work is a notable Canadian play by reason of its ambitious themes and expansive spirit. Although it is, at its core, a love story, it also tackles the big questions of destiny, science and, in subtext, the face of God.
Based on the true story of astronomers of the 18th century who spread out around the world to track the transit of the planet Venus so as to be able to measure the distance to the sun, the play is about one in particular, Guillaume Le Gentil de la Galasière. He is compelled to explore the unknown, to chart the mysteries of the universe. His impassioned articulation of his quest is one of the most compelling parts of the play: "Do you know what I see [when I look at the sky]? A thousand mysteries, each more intricate than the last. Created by God for a purpose: to remind us of our mortality, to challenge and diminish us, to keep us hopeful, to keep us humble."
The three women who wait for his return -— his mother, the housekeeper who was once his mistress, and her young daughter who is the current object of his gaze -— articulate the more "domestic" values of love and loyalty. Le Gentil's young assistant, Demarais, who also attempts the quest for knowledge, freedom, and adventure, realizes his limitations as a failed hero, but also the high price which such quests impose on the self and on others.
Transit of Venus tracks several journeys of discovery: two extended scientific voyages which end in failure, since Le Gentil never does clearly see the planet; and the emotional and intellectual journey experienced by a young woman, aptly named "Celeste," from a naïve, impetuous young girl to an independent woman.
These journeys are configured in terms of three acts: in Act One, Le Gentil announces his intentions to leave his home and the three women who inhabit it for a period of three years in order to sail on a troop ship for Pondichery to chart the 1761 transit of Venus. Act Two in set six years later, when he makes his belated return. He discovers that Celeste has extended her own horizons through her reading of his letters, and every book she could find in the house. Act Three is set in 1771, after another extended absence, and the three women have concluded Le Gentil is dead. In effect, he has become dead to them; and Celeste has finally learned how to live her own values. Left alone in a deserted house, Le Gentil lifts the white dust cloths to discover that during his absence, she has embroidered the cosmos on the furniture in intricate, highly coloured patterns —- a mute articulation of her love through a "female" art form which she leaves behind for his "gaze."
The play speaks of the passage of time; how it enriches, changes, destroys. It also humanizes scientists - putting the explorative spirit into a different light; not merely the light of the moon and stars Le Gentil worships, but in the glow of the soul. Transit of Venus is a lyrically written, and, ultimately, touching work.
It was published in 1992 by Blizzard Publishing, Winnipeg.
Commentary by Gaetan Charlebois and Anne Nothof
Last updated 2012-03-09