Vaillancourt, Lise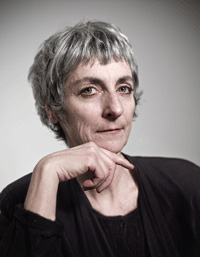 Lise Vaillancourt
Quebec-based playwright, born in Montreal in 1954. She studied music and composition, then switched to film and theatre at the Université de Québec à Montréal and Université Laval. She was co-director of the Théâtre Expérimental des Femmes/TEF (1982-87), where she also participated as an actor.
She joined with Ginette Noiseux to form a movement/improvisation laboratory until 1989 when a Canada Council grant allowed her to write full time.
Her plays for for TEF, include: Ballade pour trois baleines (1982, dir. Pol Pelletier), Martha Jenkins (1982), Si toi aussi tu m'abandonnes... (1986), Marie-Antoine, Opus 1 (1984), Amours imprévues dans la jungle équatoriale (1986). Other works include: Billy Strauss (Espace Go, 1990), and Le Petit Dragon (Théâtre des Confettis, 1996), shortlisted for a Governor General's Award in 2000.
Marie-Antoine, Opus 1 was translated into English by Jill MacDougall, and published in Anthology of Québec Plays in English Translation Vol I (1966-1986), ed Louise H. Forsyth. Toronto: Playwrights Canada Press, 2006. Vaillancourt describes this ambitious play for eleven characters and choruses of mice and schoolgirls as a "neo-baroque tragi-comedy" and "a great opera of words." It celebrates creativity in childhood, as opposed to an adult predilection for compliance and conformity.
In 2014, her play La corneille (The Crow was co-produced by Imago Theatre and UniThéâtre. "Julie is a 48-year old computer consultant. She lives in a tasteful loft on the Plateau and has been doing yoga avidly for a number of years. She only buys natural products and eats bio-eco health food. One day, when Julie arrives home from a yoga class she finds a bird, a crow, madly flailing about in her loft. No sooner does she succeed in freeing the creature, than there's a knock at the door. When she opens it, her mother's standing there! Julie's mother is 75 years old and recently widowed. She's turned up totally unexpectedly on Julie's doorstep impeccably turned out, as usual, suitcase in hand with every intention of staying. Up until today, Julie has always managed up to keep her mother at arms length, but now, her hyperactive, guilt-tripping, motor-mouthed mother is invading her space and taking over her life. Not only that but, strangely and without explanation, she keeps appearing and disappearing. To complicate the situation even more, there's Millie, Julie's neighbour from down the hall who keeps popping in and out of Julie's loft and life. Millie is in her mid-20's, gay and she's just fallen in love for the 10th time in 6 months. A very funny comedy with great heart, The Crow is thought-provoking, touching and profound. It is about mothers and daughters, about dependence and independence. Have two generations of women ever been so different? And can those differences ever be bridged?" (Imago Theatre website).
Profile by Anne Nothof, Athabasca University
Last updated 2021-05-08