Mustakas, Alex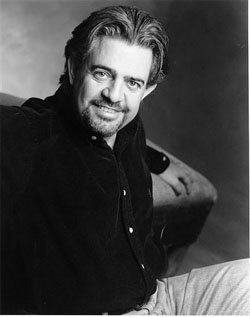 Theatre administrator, director, and actor, Alex Mustakas emigrated from Cyprus at the age of six. A performer at heart, he was drawn to the stage, but first honoured his fatherís wishes to make something of himself by earning a business degree from Wilfrid Laurier University. He continued his interest and involvement in the arts, however, by taking music courses and studying voice privately with Wilfred Laurier music pedagogue and choral conductor, Victor Martens.
After graduation, Alex Mustakas was gainfully employed in business, but decided to become a professional actor. However, after a few years on the stage, he became interested in theatre administration and pursued a Master of Arts in Administration at the City University in London, England.
Alex returned to Canada, and subsequently built a community theatre business from a tiny, virtually unused theatre in Drayton, Ontario. Since Drayton Festivalís inaugural season in 1991, he has directed over 50 productions. As Artistic Director of Drayton Entertainment Company, he is responsible for seven theatres in five locations: Drayton Festival Theatre in Drayton, Huron Country Playhouse and Playhouse II in Grand Bend, Kingís Wharf Theatre in Penetanguishene, St. Jacobs Country Playhouse and Schoolhouse Theatre in St. Jacobs, and the Dunfield in Cambridge. Under his direction, Drayton Entertainment has become the third largest regional theatre company in Canada and the seventh largest employer of actors in the country. Operating without Arts Council funding, it has annual surpluses, consistently sold out performances, creative marketing initiatives and strong private-sector and community support.
Drayton Entertainment has had a significant economic and artistic impact on all the communities in which it is involved, and to which it is dedicated. The student usher program gives youth employment opportunities and exposure to the arts. Alex Mustakas is a champion of the Kitchener Waterloo Gilbert and Sullivan society and has been involved in the CHYM FM Christmas Choirs and Carols CD, the proceeds of which support local health-care initiatives. He has initiated a scholarship program to encourage education in the arts, as well as a Theatre Camp at Huron Country Playhouse.
He was awarded an Honorary Degree by Wilfred Laurier University for his contribution to the arts in Ontario.
Last updated 2013-07-06