Beothuck Street Players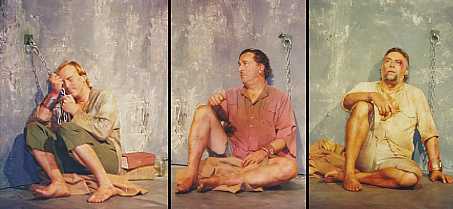 The Beothuck Street Players' February, 2000 production of Someone Who'll Watch Over Me, by Frank McGuiness
Community theatre company in St. John's, Newfoundland and Labrador, founded in 1995.
The company is well known for presenting high-quality productions ranging from drama to farce to musical theatre. The company has also presented the works of local writers including Clar Doyle's Out From Here, Fred Hawksley's Faces in the Rock and Bernice Morgan's Big Game.
Among the company's other productions are The Mumberley Inheritance by Warren Graves, Arsenic and Old Lace, Blood Brothers, One Flew Over the Cuckoo's Nest and Someone Who'll Watch Over Me (2000). They also have an affinity for Irish theatre and have presented Sean O'Casey's Juno and the Paycock, and the works of Martin McDonagh (Beauty Queen of Leenane and The Lonesome West), for which the company won several awards at the Provincial Drama Festival (Newfoundland and Labrador) in 2000 and 2001.
In autumn, 2001, they presented the musical Evita with a cast of 150 and an 18-piece orchestra. The production was sold out for its entire run. In 2008, they produced Can You See Me Yet? by Timothy Findlay. In 2012, they produced Scorched by Wajdi Mouawad at the Arts and Culture Centre.
The Artistic Director has been Clar Doyle.
Last updated 2019-09-29