Moss, Bradley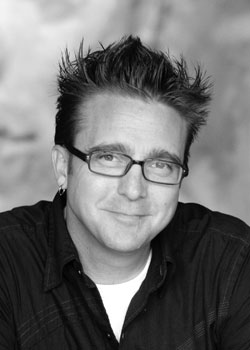 Bradley Moss
Director, born in Montreal Quebec, and based in Edmonton, Alberta. After graduating from Bishop's University, he moved to Vancouver where he directed a production of Waiting for Godot, among other plays. In 1992, he enrolled in the M.F.A Directing Program at the University of Alberta, where he directed Under Milk Wood, Playing Bare by Dominic Champagne, and a memorable interpretation of The Queens for Studio Theatre. After graduating in 1995, he directed for One Yellow Rabbit's High Performance Rodeo in Calgary, and in 1997-98 he returned to Bishop's University as a guest artist/instructor. Since 1999, he has been the Artistic Director of Theatre Network, expanding its repertoire to include British and American, as well as new Canadian plays. In 1996 he created NeXtFest, a multidisciplinary emerging artist festival.
Bradley Moss has a penchant for black comedy, absurdist scenarios, and quirky anarchic characters. His directing debut at Theatre Network was High Life by Lee MacDougall. Since then, among many others, he has directed memorable productions of Problem Child by George Walker; Lawrence & Holloman and Gordon (2016) by Morris Panych; and several plays by Calgary playwright, Eugene Stickland, including the hilarious portrait of a dysfunctional family not dealing with death - A Guide to Mourning; two end-game works - Excavations (2002), and All Clear (2004); a satirical portrait of corporate Canada gone to seed - Midlife; and a family dealing with Alzheimer's - Closer and Closer Apart (2007). The works of Daniel MacIvor have also figured prominently in his lineups: Marion Bridge (2004), A Beautiful View (2007), and In On It (2012). He has directed Chris Craddock's Summer of My Amazing Luck, Public Speaking, Moving Along, and Irma Voth (2017). In 2013, he directed the outstanding premiere of Let the Light of Day Through by Collin Doyle; and in 2019, he directed the premiere of The Empress and the Prime Minister by Darrin Hagen to celebrate the 50th anniversary of the decriminalization of homosexuality under Bill C-150. In 2019, he directed an uproarious and moving production of Bed and Breakfast by Mark Crawford.
He has featured the new marionette plays of Ronnie Burkett, including Happy (2000), Provenance (2003), and 10 Days on Earth (2006), which have attracted a loyal following in Edmonton.
He has also produced the works of Quebec playwrights, including Michel Tremblay (Hosanna 2005); Francois Archambault (The Leisure Society 2005); and George Rideout (Michel & Ti-Jean 2011).
Under his direction, Theatre Network has also produced compelling, entertaining, and disturbing First Nations Theatre: Thunderstick by Kenneth T. Williams in 2010, and Where the Blood Mixes by Kevin Loring in 2013 (in a co-production with Western Canada Theatre Company and Theatre Aquarius.
Bradley Moss has a predilection for Irish playwrights, and has directed the tragi-comedies of Martin McDonagh (A Skull in Connemara, 2003). In his program note for this play, he confesses his attraction to "their dark dark humour and their ability to find humanity in a world that tends to be very bleak – bleak in hope and bleak (although beautiful) in landscape. It is that fear that the world is not very sane or reliable or organized and that anything can happen to you and it could be very bad, that their humour springs from."
His program notes for Theatre Network are typically thoughtful and personal – drawing the reader into the philosophical and emotional heart of each play.
In the summer of 2011, he directed an imaginative and innovative production of Twelfth Night for the Free Will Players, in which a mood of melancholy and loss filtered through the anarchic antics of the miss-matched would-be lovers.
Under his artistic direction, Theatre Network has won many Sterling Awards, including best production for Perfect Pie by Judith Thompson (2003); for Summer of My Amazing Luck, an adaptation of the novel by Miriam Toews by Chris Craddock (2005); and Let the Light of Day Through by Collin Doyle (2013). In 2015, he was awarded a Sterling for Best Direction for the Theatre Network production of The Gravitational Pull of Bernice Trimble by Beth Graham.
Profile by Anne Nothof, Athabasca University
Last updated 2020-06-12