MacDonald, Bryden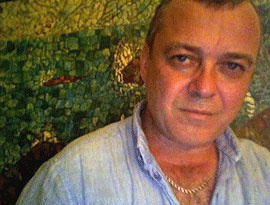 Bryden MacDonald
Playwright, director, dramaturge, and teacher, born in Glace Bay, Cape Breton, Nova Scotia in 1960. He currently resides in Toronto.
His plays often consider the tension between "home and away" – the desire to remain in a small maritime community, and the necessity of moving to an urban centre. They include Whale Riding Weather (nominated for a Governor General's Award in 1994), which portrays the anguish of a gay man who is losing his young lover (Factory Theatre, 1992). The Weekend Healer (1994) portrays the fraught relationship of a mother and daughter, when the latter returns home to Cape Breton after an absence of five years. Divinity Bash/nine lives (1998) dramatizes the lives of nine marginalized individuals lost in an urban landscape. With Bated Breath (Centaur Theatre 2009) features a gay youth who leaves Cape Breton to lose himself in Montreal's red light district after his lover abandons him. Other plays include The Extasy of Bedridden Riding Hood (2004), and Beyond the Beaded Curtain (2004). His latest play, a dark comedy entitled Odd Ducks (Chester Playhouse, Halifax, 2012), was published by Talonbooks in Spring 2015, and nominated for a Governor General's Award. The play is set in a small Maritime town in a tavern named the Odd Duck. Inspired by Moliere's The Misanthrope, it features a charming middle-aged rogue who believes in telling the truth to others, while lying to himself.
MacDonald has also created and directed theatrical interpretations of the words and music of Leonard Cohen (The Light Gets In, 1991), Carol Pope (Shaking the Foundations, 1999), and Joni Mitchell (When All the Slaves are Free, 2003).
He has directed productions of Tennessee Williams' Cat on a Hot Tin Roof, Joe Orton's What the Butler Saw and Judith Thompson's Perfect Pie.
MacDonald has been the Writer-in-Residence at the National Theatre School of Canada,Playwrights' Workshop,Mulgrave Road Theatre,Neptune Theatre,Stratford Festival, and Buddies in Bad Times.
Source: Bruce Barton, The Canadian Encyclopedia.
Profile by Anne Nothof, Athabasca University
Last updated 2020-07-17