Gault, Connie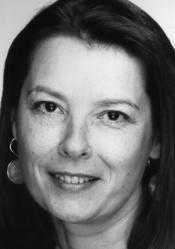 Connie Gault
Saskatchewan-based writer born in Central Butte, 1949. Her works have appeared on stage, radio and in magazines and anthologies.
Her early plays investigate the small details of women's lives in an isolated prairie environment, and the surprising significance of these details. There are no celebrations or triumphs, but a subtle recognition and acceptance of the stark contrast of light and shadow that characterizes prairie life.
The Soft Eclipse premiered at Globe Theatre, 1989, directed by DD Kugler, and published by Blizzard, 1990. The title is taken from a poem by Emily Dickinson about the condition of being a wife: the "soft eclipse" of marriage both obliterates and transforms the self. The play is also modelled on Virginia Woolf's novel Between the Acts. Like Woolf's mystical protagonist, Mrs. Swithin, Mrs. Currie in The Soft Eclipse is observant and imaginative, but vague and aimless in her relationships with others. Gault portrays most of the relationships of the women in a small prairie town in 1965 as fractious and difficult, but finally accommodations are made during an eclipse at noon, when individual atoms dissolve and disperse, and they all "come together." The predominantly male perspective suggested by the intense sun is obliterated by the shadow of the female moon, and new insights are briefly achieved.
In Sky (25th Street Theatre, 1989, directed by Tom Bentley-Fisher, published by Blizzard, 1989) a woman named "Old Blanche" haunts the periphery of the action, watching her history being replayed by her younger self. As a pregnant teenager she was forced to marry a young man whose mother has recently died. Because she has been traumatized by the abusive and predatory actions of her father, she is determined that her new husband will not subject her to further abuse, and keeps him at bay during her pregnancy by persuading him that she will give birth to a daughter of God on Christmas day. When she learns that her unborn baby is dead, she wonders whether the nothingness she sees on the prairie is an indication of the meaningless of life. Finally, however, she can comfort her grieving husband. In Sky, the cold heaven offers no comfort, no pity; but there is still the possibility of human compassion.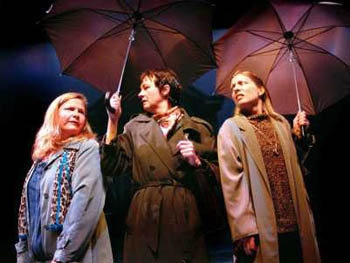 Red Lips
, at
Alberta Theatre Projects
, 2001, (L-R) Valerie Planche, Laura Parken, Maggie Nagle. Photo by Trudie Lee, courtesy of ATP.
Otherwise Bob was produced at Northern Light Theatre in 1997. Red Lips received a reading in 2000 at playRites and a full performance in 2001.
Her collection Studio One: Stories For Radio was published by Coteau Books in 1990. Euphoria: a novel, an extraordinary story of a woman's survival in late 19th century Toronto, was published by Coteau in 2009, and won the 2009 Saskatchewan Book Award for Fiction. A Beauty was long-listed for the 2015 Scotiabank Giller Prize.
Profile by Anne Nothof, Athabasca University
Last updated 2020-12-15