Danis, Daniel

Daniel Danis
Playwright born in the Saguenay region of Quebec in 1962, who has quickly become one of the most important writers of the French language.
With two plays under his belt (and two Governor General's Award), M. Danis's work has quickly distinguished itself for its control of stagecraft and the vivid imagery of its language.
His first play, Celle-là, was picked up by several theatres including Espace Go. His second play, Cendres de cailloux, blew open the doors he had cracked with his first work. In 1998, Go presented Danis' new play, Le chant du dire dire which was subsequently presented in Paris (to rave reviews and a citation from the Parisian critics as the best French-language play of the season) and in English in Vancouver (1999/2000).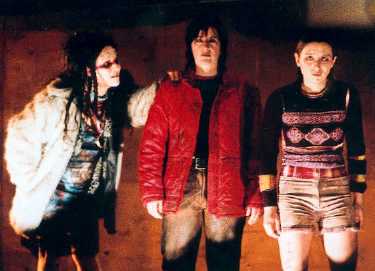 Théâtre d'Aujourd'hui
's January, 2001 production of
Le Langue-à-langue des chiens de roche
, l-r, Dominique Quesnel, Marie-France Lambert, Isabelle Roy, directed by
René Richard Cyr
(photo: Christian Desrochers)
This reclusive writer, who rarely gives interviews, said of his work, "If my characters have tragic lives, it is to enable them to release their immense desire for life. My theatre addresses itself more to the unconscious than to the psychological."
Other plays are: Pont de pierres et la peau d'images (produced in Paris in 1997), Le Langue-à-langue des chiens de roche (Théâtre d'Aujourd'hui, January, 2001, directed by René Richard Cyr).
Profile by Gaetan Charlebois
Last updated 2020-07-17