Francis, David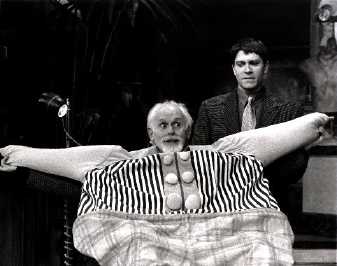 Quebec-based actor born in 1942. After taking a B.A. degree in languages at McGill University in Montreal, he relocated to England, and studied acting at the London Academy of Dramatic Arts. He remained in the U.K. for twenty years, working and touring with theatre companies in England, Scotland and Wales, as well as in Europe and in India with the Bhopal-based Naya Theatre.
Since his return to Canada, David Francis has been very active in theatres across the country: He was co-creator and actor in the seminal collective creation Paper Wheat; and worked with W.O. Mitchell on the premiers of The Black Bonspiel of Wullie MacCrimmon and The Kite.
He has worked with some of Canada's top directors including Brian Richmond (Guys and Dolls), Jean Gascon (Anatol), Guy Sprung (The Tempest) and Alexandre Hausvater (Passion Play). In this last work, he gave a superbly nuanced performance that was noticed by virtually every critic who saw it. He turned in another stunning, detailed performance in 1999, playing lead this time in Anthony Shaffer's Sleuth, winning the Montreal English Critics Circle Award for his performance. In 2001, he appeared at the Stratford Festival (The Trials of Ezra Pound, 2001), and has been a member of the company for eight years. He toured his one-man show on Stephen Leacock for many years.
David Francis also works in film and television (including the broadcast version of Paper Wheat).
Profile by Gaetan Charlebois. Additional information provided by Christopher Hoile.
Last updated 2018-04-03