Dennis, Charles
Charles Dennis
Playwright/actor born in Toronto, Ontario, December 16, 1946.
He made his professional debut in 1963 as Dr. Einstein in Arsenic and Old Lace at the Red Barn Theatre in Jackson's Point, Ontario, which began his association with Eric Donkin and Joel Kenyon. He came to public attention in 1963 when he presented an adaptation of Catcher in the Rye without JD Sallinger's permission (Coach House Theatre).
While completing a Bachelor of Arts degree at the University of Toronto (Class of 1968), he appeared at the Hart House Theatre in Heartbreak House, The Devils and Ondine (dir.William Hutt).
He then served as film and theatre critic for the Toronto Telegram until his first play, Everyone Except Mr. Fontana (dir. Joel Kenyon) was presented in 1968 at the Colonnade Theatre.
As Artistic Director of the University College Players Guild, he produced the Toronto premiere of Arthur Miller's Incident at Vichy (dir. Joel Kenyon), and co-starred with Brian Linehan.
In 1971 he traveled to England where he directed the musical, Maybe That's Your Problem (Music by Walter Scharf; Lyrics by Don Black; Book by Lionel Chetwynd), at The Roundhouse Theatre in London. He returned to the Canadian stage in 1980 starring in Deathtrap at the Grand Theatre, London. That same season he played Harold in Black Comedy.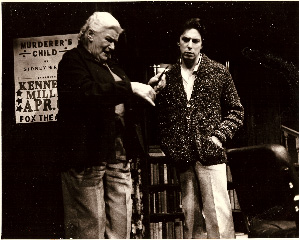 Anna Russell as Helga ten Dorp, Charles Dennis as Sidney Bruhl in "Deathtrap" directed by Bernard Hopkins, Theatre London, 1980.
In 1982 his play Altman's Last Stand, starring Eric Donkin, was produced at the National Arts Centre, and, subsequently at Toronto Workshop Productions/TWP. Significant Others was presented in Los Angeles (starring Sonja Smits, dir. Charles Dennis), Coventry and London, England (1985-88). Going On, in which Dennis created the role of "Alfred," played at the Edinburgh Fringe Festival in 1989, and was nominated for the Daily Express Award for Best Play. It was later produced in Los Angeles and New York
In 1997 he starred in his work SoHo Duo, (dir. Kenneth Welsh), comprising two one-act plays titled "The China Coat" and "The IRS Audit," produced at the West Bank Theatre in New York.
In 2003 he created the role of "Fred Ross" in Ed Begley Jr.'s landmark musical, Cesar and Ruben at the El Portal Theatre in Los Angeles. In 2005 he appeared as George Sanders in his play, High Class Heel, at the National Arts Club in New York City.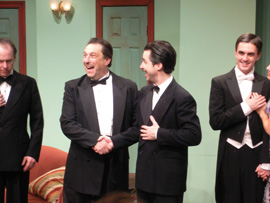 Room Service
His play, The Alchemist of Cecil Street, a comedy about Jewish immigrants in 1924 Toronto, was recorded in Los Angeles in March 2009. Originally commissioned by the CBC in 1976, the play became a cause celebre when John Hirsch canceled the production five days before taping because the lead actor was not Jewish. This new production stars Bryan Cranston, Ron Orbach, Edward Asner, and Dennis himself.
His play, Tolstoy Was Never There, a comedy about Trotsky's incarceration in Nova Scotia during the Great War was recorded in 2010 with a cast that included Kevin Dunn, Ed Begley Jr., John O'Hurley, Ron Orbach and Enn Reitel. In 2011 Dennis was a guest artist with the Open Fist Theatre Company in Los Angeles playing Gregory Wagner in a revival of Room Service.
Later that year (2011) Dennis appeared as Carlton Fitzgerald in Moss Hart's Light Up the Sky opposite Catherine Hicks and Michael Laskin at the JRT in Las Vegas. In 2016, a revised version of his play Altmanís Last Stand was presented at the Zephyr Theatre in Los Angeles. The critically acclaimed production was directed by Charles Haid and starred Michael Laskin as Franz Altman.
Last updated 2017-09-22