Moore, Dora Mavor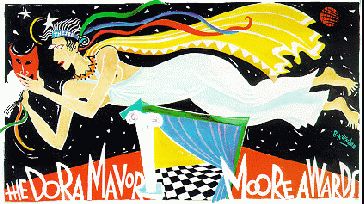 Actor, director, teacher, born in Glasgow, Scotland in 1888; died in Toronto, Ontario in 1979. Mother of Mavor Moore.
Dora Mavor Moore graduated from Havergal College for girls, and was the first Canadian to attend the Royal Academy of Dramatic Arts in London. While a student in London, she saw productions of W.B. Yeats's The Land of Heart's Desire and Lady Augusta Gregory's Spreading the News, and became aware of the Abbey Theatre's role in establishing an Irish National Theatre, influencing her own later ideas for a Canadian National Theatre.
She made her professional début in 1912 with Ottawa's Colonial Stock Company, and then joined a Chautauqua tour in the United States. In 1916, she married an Anglican curate/army chaplain, and spent World War I in London, where she became the first Canadian to perform at London's Old Vic -- as Viola in Twelfth Night. After the collapse of her marriage 1928, she raised her three sons in Toronto, while teaching acting and diction for the University of Toronto Extension Department, then under the direction of Herman Voaden. She also directed plays for the Extension Department, including As You Like It, designed by Arthur Lismer, with music by Healey Willan.
In 1930 she was employed by the CNR to direct a series on Canadian history for radio, written by Merrill Denison.
In 1938, with the help of her three sons, she bought an historic log home and barn for her family, which also became the home for a new theatre -- the Barn Theatre, and a new theatre company -- The Village Players, producing new Canadian plays such as John Coulter's The House in the Quiet Glen, with actors such as Don Harron and Vernon Chapman.
With her son, Mavor Moore, she founded the New Play Society in 1946 as a training ground for young writers, performers, and technicians. It initially presented a series of six plays in the Royal Ontario Museum's small theatre from October to December, including: J.M. Synge's Playboy of the Western World, Strindberg's The Father, Somerset Maugham's The Circle, and the Coventry Nativity Play. In 1947, the NPS produced its first Canadian play, The Man in the Blue Moon by Lister Sinclair. It also hosted a production by Compagnons de Saint-Laurent from Montreal. In 1948, the NPS launched the infamous Spring Thaw revue. In the 1949-50 season, it launched a season of five new Canadian plays, including Who's Who by Mavor Moore and Riel by John Coulter.
Dora Mavor Moore was key in recruiting Tyrone Guthrie to the Stratford Festival.
She was awarded the Centennial Medal and Canadian Drama Award in 1967, Honorary Doctorates from Ohio University (1969) and the University of Toronto (1970), the Order of Canada (1970), and the First Drama Bench Award (1978). Toronto's annual theatre awards are named in her honour.
Source: Paula Sperdakos. Dora Mavor Moore: Pioneer of the Canadian Theatre. Toronto: ECW Press, 1995.
Last updated 2020-09-13