Berd, Françoise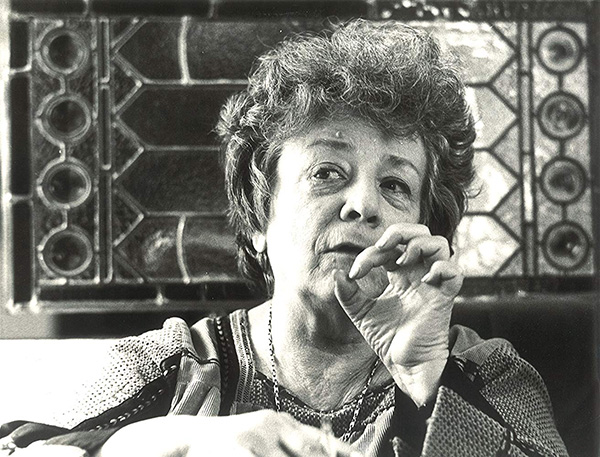 Françoise Berd in La Belle apparence 1979.
Theatre activist born in Saint-Pacôme, Quebec, March 2, 1923, died August 10, 2001 in Montreal.
She was one of the leaders of Canada's Alternative and Experimental Theatre scene, founding, with Roland Laroche, Théâtre de L'Égrégore in 1959. Through her company, she brought a wide variety of plays not seen until then on the stages of the country in French by Beckett, Chekhov, Jarry, Strindberg, Ionesco and Williams.
A touching tribute to her occurs in Michel Tremblay's autobiographical novel La nuit des princes charmants, in which the writer talks about how groundbreaking the little company was.
Berd launched the company with money from her salary as a telephone operator, locating it in a tiny hall just off Montreal's main street, Ste-Catherine. She was considered a tough woman, taking on all comers which included, of course (considering the transgressive nature of the theatre she presented) the omnipotent Catholic Church.
She left the company a year before it closed in 1966, and went to work with the National Film Board, occasionally acting in film. She appeared in André Brassard's film of Tremblay's Françoise Durocher, waitress, and she had a small role in the Ettore Scola film Una giornata particolare.
In 1991, she received a special Masque for her contribution to theatre.
She said of her life, "Everything I have done in life, I had loved without exception. If I didn't, I wouldn't have done it. And everyone I worked with in the theatre was the best. When I speak of the theatre, I speak of my family."
Sources: Éve Dumas. "Une pionnière du théâtre d'avant-garde disparaît", La Presse, Montreal, 14 Aug 2001; Alan Hustak. "Avant guard: Berd fought for experimental theatre," The Gazette, Montreal, 14 Aug 2001.
Profile by Gaetan Charlebois.
Last updated 2021-07-16