Bowes, Geoffrey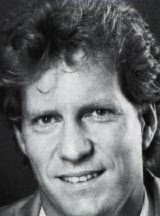 Geoffrey Bowes
Ontario-based actor, Geoffrey Bowes is a graduate of the National Theatre School of Canada. He has performed on stages across Canada, including the Stratford Festival (The Country Wife, 1995); Theatre Calgary; Shaw Festival; Canadian Stage (Picasso at the Lapin Agile 2001); and Theatre New Brunswick.
Among the important Canadian plays in which he has been featured are the premieres of Erika Ritter's Automatic Pilot; George F. Walker's Zastrozzi and Gossip; and David Fennario's Toronto.
During the 1980s and 90s he worked extensively in TV and film in Canada and the US (66 credits), including Due South with Paul Gross (1998), and Street Legal (1987-92).
After twenty-five years as an actor, Geoff Bowes opened his own construction company and renovated houses. In 2018 he published a humorous account of his unbelievable experiences as a carpenter in people's homes, Open Up the Wall. He lives on a farm in Markdale, Ontario with his wife.
Profile by Gaetan Charlebois and Anne Nothof. Additional information provided by Lindy Cooksey and Pierre Karch.
Last updated 2020-05-11