Boyd, George Elroy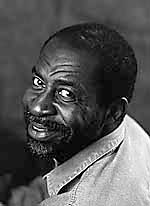 Playwright George Elroy Boyd was born in Halifax Nova Scotia in 1952, one of nine children. He died July 7, 2020 at Mont Sinai Hospice in Montreal at the age of 68. He attended Saint Mary's University, and studied broadcasting at the Nova Scotia Institute of Technology. In 1989, he became Canada's first Black news anchor for CBC Newsworld.
His play Shine Boy about the life of Halifax resident George Dixon, the first Black man to win a world boxing title, was produced by Neptune Theatre in 1988, and was the first play by a Black Nova Scotian to be produced there. Boyd was writer-in-residence at Neptune in 1995.
Gideon's Blues (1996) dramatizes the downward spiral of an educated Black man whose ambitions for himself and his family are thwarted by a racist response to his attempts to find suitable work, and he turns to drug dealing – reversing the roles of victim and victimizer. It is published by Talonbooks, and adapted as a TV drama titled The Gospel According to the Blues by Thom Fitzgerald in 2010.
Consecrated Ground premiered at the Eastern Front Theatre in 1999. It was nominated for a Governor General's Award in 2000, and published by Talonbooks and in the anthology of contemporary African Canadian drama, Testifyin' Vol. II, (2003) edited by Djanet Sears. Consecrated Ground depicts the consequences to a Black family of the razing of Africville on the outskirts of Halifax in the 1960s and the relocation of its 400 residents to more "progressive" public housing. The play depicts the struggle between the advocates of Black heritage and history and the advocates of white liberal socio-economics.
George Boyd has been writer-in-residence at Black Theatre Workshop in Montreal, and his play Wade in the Water was produced in the 2003-04 season. It was awarded a 2004 MECCA Award (Montreal English Critics' Circle Award) for Best Director, and was a runner-up for Best Production. It is published by Playwrights Canada Press (2005). Wade in the Water also demonstrates the importance of history in the affirmation of self and community against racism and marginalization. It traces the journey of a former slave from the post-war South to Nova Scotia where he reunites with his son, and then travels to Freetown, Sierra Leone, where tragically he is drowned by slavers when he foils their attempt to enslave his grandson. Although his own father and master was white, Nelson, the protagonist, finally rejects white paternalism as the social order.
His 2009 play, Le Code Noir, about the life of 18th-century composer Joseph Bologne, Chevalier de Saint-Georges, (dubbed "Black Mozart") was produced by Black Theatre Workshop at the Segal Centre for Performing Arts.
Further reading: Rachael Van Fossen. "A Particular Perspective: (Re)Living Memory in George Boyd's Wade in the Water," African-Canadian Theatre. Ed. Maureen Moynagh. Toronto: Playwrights, 2005.
Profile by Gaetan Charlebois and Anne Nothof, Athabasca University
Last updated 2020-08-07