Green Thumb Theatre For Young People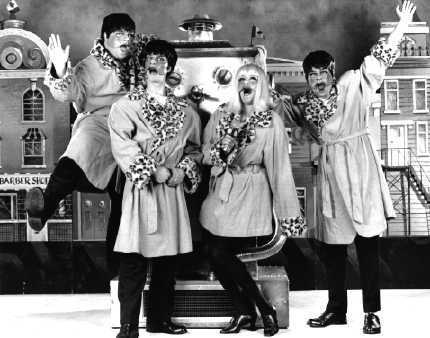 Green Thumb's production of The Beauty Machine by Robert Bellefeuille, (l-r) Rhys Lloyd, Attila Clemann, Kerry Davidson, and Brian Anderson (Photo: David Cooper)
Company in Vancouver, British Columbia, founded in 1975 with a mandate to create original Canadian plays based on contemporary social issues which are of concern to young audiences. Its mission is to create and produce "plays that explore social issues relevant to the lives of children, youth and young adults. . . providing theatre that celebrates the language and stories of today's generation and culture to stimulate empathy, debate and critical thinking" (Green Thumb Theatre Website). Green Thumb Theatre explores contemporary issues such as bullying, racism, illiteracy, immigration, family relationships, substance abuse, environment, and First Nations culture through entertaining, educational works with high production values.
The founding Artistic Director was Dennis Foon (1975-87); Patrick McDonald was AD from 1988 to 2020, followed by Rachel Aberle.
Since its founding, the company has commissioned and produced over 50 plays for its mainstage and for touring. Many of these works have subsequently been performed by companies around the world. It has performed in every province and territory in Canada, in 36 American states, and in 11 other countries: Ireland, England, Scotland, the Netherlands, Germany, Sweden, Hong Kong, Singapore, Australia, New Zealand, and Mexico.
Among the many awards it has received are the Chalmers Award for Joan MacLeod 's Little Sister (1995), for Colin Thomas's Two Weeks, Twice a Year(1990), and One Thousand Cranes (1984); and the Reuters Festival Choice Award for "Best Children's Production" for New Canadian Kid by Dennis Foon (Dublin Theatre Festival, 1997).
website: www.greenthumb.bc.ca
Last updated 2020-10-26