Frehner, Harry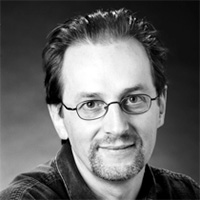 Harry Frehner. Photo courtesy of Alberta Theatre Projects.
Lighting designer, based in Calgary Alberta, who began his career as head technician at Montreal's Centaur Theatre in the 1980s, and now designs for major theatres and opera houses across Canada.
Notably, early in his career, Larry Frehner designed the premieres and touring productions of David Fennario's Nothing to Lose and On The Job. He also designed the premiere of Judith Thompson's White Biting Dog. For the Tarragon Theatre he lit The Master Builder in 1983.
As a resident designer for Stratford Festival Frehner lit, among many others, the 1991 production of Hamlet, the 1992 production of Romeo and Juliet, the 1996 production of A Fitting Confusion. For Theatre Calgary, he designed lighting for Evita (1993), for Berlin to Broadway with Kurt Weill (2000), and for The Scarlet Letter (2019). In 2016, he lit Waiting for the Parade for Alberta Theatre Projects.
Harry Frehner has designed lighting for opera productions in major houses across Canada and the United States, including fifty works for Calgary Opera since 1992, notably Calgary Opera's world premiere of Filumena (2003), and more recently The Magic Flute (2016). He has been nominated for six Betty Mitchell Awards, and won two. Other opera productions are the Opera Ontario production of Madama Butterfly, and the Wide Open Door (Dublin) production of Dead Man Walking.

Rigoletto, Vancouver Opera. Photo by Tim Matheson.
Frehner considers the lighting designer a "facilitator who assists performers in giving their art to the audience" (quoted in Christopher Hoile. Opera Canada 44.3 [2003]), but his work demonstrates that lighting is integral to atmosphere, mood, and meaning.
Profile by Anne Nothof, Athabasca University.
Last updated 2020-12-08