Burroughs, Jackie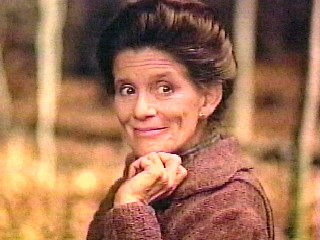 Jackie Burroughs
Nationally known and celebrated stage, film and television star born in Lancashire, England in 1939, died September 2010 at the age of 71 of gastric cancer.
Jackie Burroughs has acted in most of the major theatres in the country, particularly the Stratford Festival,National Arts Centre,Tarragon Theatre, Royal Alexandra Theatre, and the Shaw Festival. She has worked with most of the country's top directors including Christopher Newton and Robin Phillips in roles from the classics (Portia in Shakespeare's Merchant of Venice, with Hume Cronyn at Stratford, 1976) to the modern theatre (Georgia O'Keefe in The Faraway Nearby by John Murrell at the Saidye Bronfman Centre, 1996), and in Cheri (February, 1999) at the Tarragon.
At one time a mannered actor (often compared to Katherine Hepburn or Maggie Smith) she become with age a vivacious, fearless and focussed performer, delighting audiences and pulling in critics even when the vehicle in which she was starring was deeply flawed.
Burroughs was well-known for her role of Aunt Hetty in the CBC-TV series The Road to Avonlea, for which she received three Gemini awards, but also for her daring 1988 film, A Winter Tan, in which she played a tourist on the sexual prowl in Mexico. Other films include The Wars (based on the novel by Timothy Findley), The Grey Fox, and John and the Missus with Gordon Pinsent.
She won two Canadian Film Awards and an Earle Grey Award for outstanding contribution to Canadian cinema.
Her daughter, Zoë lives and works in Los Angeles.
Profile by Gaetan Charlebois.
Last updated 2017-01-17