Godin, Jacques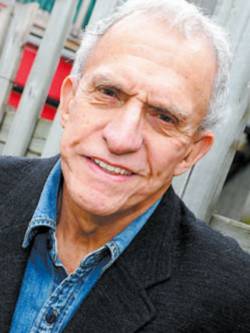 Jacques Godin
Magnificent character actor born in Montreal, Quebec in 1930; died October 26, 2020 of heart failure at the age of 90 in Montreal.
Jacques Godin began his studies in theatre at the school of the Théâtre du Nouveau Monde/TNM, subsequently appearing in over sixty plays in Quebec and Ontario theatres, including Théâtre de L'Égrégore, TNM, Nouvelle Compagnie Théâtrale / Théâtre Denise-Pelletier, and in the famous Stratford Festival production of Henry V, which featured francophone actors in the roles of Frenchmen (1956).
He acted in many important theatre productions including the Théâtre de Quat'Sous' revival of La Charge de l'orignal épormyable; Théâtre du Rideau Vert's Le Visiteur, Noces de sang/Blood Wedding (1984), and Hamlet; the TNM's Jeanne Dark/St. Joan of the Stockyards, and in the TNM's La Cerisaie/The Cherry Orchard (March, 2000). In 2003, he appeared in Impératif présent by Michel Tremblay (dir. André Brassard at Théâtre de Quat'Sous (2003).
He also worked in radio and television, and had a solid career in film (including the film version of Being at Home With Claude).
Jacques Godin's performances were marked by an electric stage presence and a remarkable ability to veer from unnerving strength to heartbreaking vulnerability.
In June 2017, he was made a knight in the Ordre national du Québec.
Viewings: La Mort d'un commis voyageur, Radio-Canada, 1962, dir: Paul Blouin - a production of the Miller play staged for television.
Profile by Gaetan Charlebois.
Last updated 2020-11-10