Doolittle, Joyce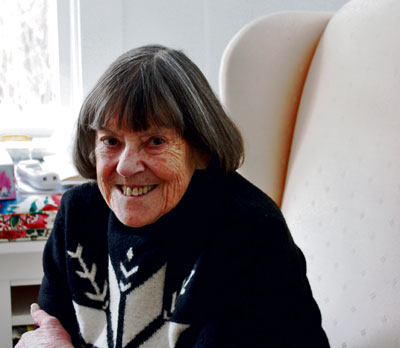 Joyce Doolittle
Actor, director, and educator, Joyce Doolittle was born April 5, 1928 in Morgantown, West Virginia; died March 6, 2020 in Calgary Alberta. She attended Ithaca College and Indiana University before moving to Calgary in 1960 with her husband, the composer Quenten Doolittle and their four children. She was dubbed by playwright Eugene Stickland "an icon of Calgary's theatre."
Since there was no professional theatre in Calgary when she arrived, Joyce Doolittle joined the Allied Arts Centre and taught drama to teenagers; and in 1963 she initiated a children's theatre. She also directed avant-garde plays for the Musicians and Actors Club (MAC), the precursor of Theatre Calgary. In 1966, she directed The Knack by British playwright Ann Jellico, with young actors Sharon Pollock and Michael Ball, for the Dominion Drama Festival held in Victoria BC, where it won first prize.
She also taught acting and creative drama for the Continuing Education Department at the University of Calgary from 1964 for 24 years until her retirement for the newly instituted Drama Department.
Doolittle was instrumental in the establishment of the Pumphouse Theatre in an abandoned pumping station on the banks of the Bow River. In 1984, the smaller of the two theatre spaces in the building was named in her honour.
She was the first Canadian member of the International Association of Theatre for Children and Youth (ASSITEJ), and co-authored with Zena Barnieh and Hélène Beauchamp The Mirror of Our Dreams: Children and Theatre in Canada (Talonbooks 1979).
She was drama editor for Red Deer College Press, promoting the publication of Canadian playwrights.
In 2007, she played the role of the aunt in Vigil by Morris Panych for Theatre Calgary. In 2009, at the age of 81, she performed the title role in Stickland's Queen Lear in an Urban Curvz production in the Joyce Doolittle Theatre at the Pumphouse.
Her many awards include the Harry and Martha Cohen Award (1987), a YWCA Woman of Distinction Award in Education, an Alberta Achievement Award (1987), and a Betty Mitchell Award. In 2018, she received the Order of Canada for pioneering the advancement of the Calgary theatre scene with her significant philanthropic and volunteer contributions in the Canadian arts community.
Source: Grant Reddick. "Joyce Doolittle," Theatre 100: Celebrating 100 Theatre Practitioners Over 100 Years. Alberta Playwrights Network, 2006.
Profile by Anne Nothof, Athabasca University
Last updated 2021-05-19