Peacock, Lucy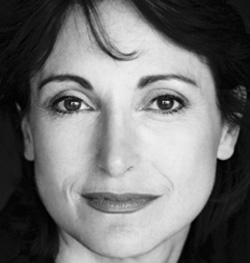 Lucy Peacock
Actor, best known for her long association with the Stratford Festival (33 seasons as of 2020). Lucy Peacock is the daughter of David Peacock. She studied at the National Theatre School of Canada.
Since 1984, Peacock has performed in more than sixty productions for Stratford, including at least thirty plays by Shakespeare. Her diverse roles include leading parts in The Duchess of Malfi, Taming of the Shrew (1988), Richard III, Twelfth Night (1988), A Midsummer Night's Dream (1989, 1993), As You Like It (1990, 2000), My Fair Lady (1988), Pride and Prejudice, as Portia in The Merchant of Venice (2001), Emilia in Othello (2007), among many others. She was particularly acclaimed for her solo performance in The Blonde, the Brunette and the Vengeful Redhead (2006), which travelled across Canada. For the 2008 season, she played Grumio as a woman in The Taming of the Shrew, and in 2009 she played an aging prostitute in The Trespassers by Morris Panych. In 2013 she starred in the Stratford premiere of The Thrill by Judith Thompson, and in 2014, she played Mrs. Sullen in George Farquhar's The Beaux' Stratagem, returning to the role twenty-nine years after she first played it at Stratford. In 2016, she played Kate Keller in All My Sons and Gunhild Borkman in John Gabriel Borkman. In 2018, she played Satan in Paradise Lost by Erin Shields, and an intense, persuasive Volumnia in Coriolanus to critical acclaim: "Lucy Peacock is a tremendous Volumnia, marshalling her arguments with unflagging strength and overpowering lucidity, but only getting through to him at the very last moment when she abandons oratory for despair and disgust" (Robert Cushman. stratfordfestivalreviews.com. 1 July 18).
Lucy Peacock lives on a horse farm outside of Stratford with her husband, Christopher Thomas. She has two sons, Ben and Harrison Thomas, who is also an actor.
Profile by Gaetan Charlebois. Information provided by Lindy Cooksey; additional information provided by Christopher Hoile and Anne Nothof.
Last updated 2021-10-28