Faucher, Martin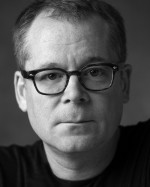 Martin Faucher
Quebec-based actor/director known for his lyrical productions of works from the Quebec and world repertories.
Among his works are two adaptations of novels by Réjean Ducharme, A quelle heur on meurt? and the very well-received La Fille de Christophe Colomb, which was performed at the Théâtre d'Aujourd'hui as well as in France, Switzerland, Martinique and Guadeloupe.
In the early 1990s, Martin Faucher made his mark in the world of dance, collaborating with noted choreographers such as Daniel Léveillé, Harold Rhéaume and Catherine Tardif.
He has directed children's theatre, notably La Bonne femme, for which he won an award in 1996 at the Masques Awards.
He has staged works by many of Quebec's emerging or established playwrights, notably Michel Marc Bouchard, René-Daniel Dubois and Carole Fréchette - his 1998 production of her Les Quatre morts de Marie was a surprise hit of the Montreal season.
In 1998, he directed Si bas...tout bas for the Théâtre de la Manufacture. He directed the world premiere of Larry Tremblay's Les mains bleues at Aujourd'hui (April, 1999), Corneille's Le Menteur at Nouvelle Compagnie Théâtrale/Théâtre Denise-Pelletier (October, 1999), Les sept jours de Simon Labrosse (March, 2000), Albee's Qui a peur de Virginia Woolf? (Théâtre du Rideau Vert 2000), and Fanny Britt's translation of Martin McDonagh's The Beauty Queen of Leenane/La Reine de beauté de Leenane (September, 2001).
His recent notable credits include: Le Mystère d'Irma Vep – Coup de cœur prize at the Just for Laughs festival and Masque Award for best production in a private theatre (2004); Du vent entre les dents (Théâtre d'Aujourd'hui, 2007); Une Maison propre (Théâtre de l'Opsis, 2009); Une musique inquiétante/Old Wicked Songs (co-production with the Segal Centre for Performing Arts, 2010); and Blanche-Neige and La Belle au bois dormant (Espace Go, 2011). In 2012, he directed a production of Vigil at the Segal Centre.
Martin Faucher was president of the Conseil Québécois du Théâtre from 2005-2009, and a teacher in theatre schools. From 2015 to 2021, he has been Artistic Director of the Festival TransAmériques. He opened his first year as AD, with Dancing Grandmothers by South Korean choreographer Eun-Me Ahn, in which a dozen grandmothers and nine young performers danced with festive joy, and invited the audience onstage to participate.
In 2018, Faucher received the Prix Gascon-Thomas from the National Theatre School of Canada.
Profile by Gaetan Charlebois. Additional information provided by Alvina Ruprecht and Segal Centre website.
Last updated 2020-11-27