Short, Martin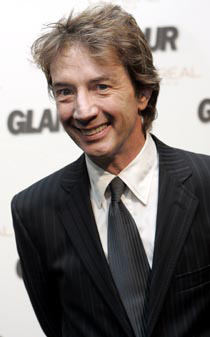 Martin Short
Internationally recognized actor, writer, and producer, born in Hamilton, Ontario, in 1950, the youngest of five children. His father was the vice-president of Stelco and mother was concert master of the Hamilton Philharmonic Orchestra. At 12, Martin Short lost a brother and later during his adolescence, his mother succumbed to cancer.
He studied at McMaster University before appearing in a Toronto production of Godspell and in the Theatre Aquarius production of Fortune and Men's Eyes (1974). He joined the Second City troupe in 1977 and went on to appear with many of his co-stars in the highly successful TV series, SCTV.
He began acting in movies soon afterwards. but also appeared on Broadway in 1992 in The Goodbye Girl, for which he was nominated for a Tony award. He appeared in the 1998 Broadway revival of Neil Simon's Little Me and subsequently won the Tony Award for his performance. In 2003 he appeared in the Broadway production of The Producers, and in 2006, he devised a one-man show entitled Martin Short: Fame Becomes Me, in which he interviewed American celebrities. In January 2015, he replaced Nathan Lane in the Broadway production of It's Only a Play. He achieved critical success for his role in the 2021 TV series Only Murders in the Building.
Martin Short was inducted into the Order of Canada in 1994. In 1999 he received the Sir Peter Ustinov Award Comedy Award (given by the Banff Television Festival). In 2017, he was awarded a Governor General's Performing Arts Award.
His memoir, I Must Say: My Life as a Humble Comedy Legend, was published in 2014.
He lives in Los Angeles.
Profile by Gaetan Charlebois.
Last updated 2021-10-18