Baldridge, Mary Humphrey
Mary Humphrey Baldridge
Playwright, poet, and short story writer, Mary Humphrey Baldridge was born in 1937 and was a graduate of the University of Alberta. She died in December, 2021 in Long Island City, NY.
Her poetry is published by Fiddlehead Press, and her short stories in New Quarterly, University of Waterloo. Her plays have been published and produced in the USA, Australia, Britain, and Canada.
Her produced plays include: The Photographic Moment ( Theatre 3, 1974, dir. Mark Schoenberg), which Jamie Portman called "a valuable addition to Prairie dramatic literature" (Southam [National] News Services); Tonight at Calgary Theatre Hall! (1975, commissioned by Theatre Calgary for City of Calgary's 100th anniversary, toured Alberta); The Lunchbox Revue (1975, commissioned for the inauguration of Lunchbox Theatre in Calgary).
GENESIS: The Mary Shelley Play (Theatre Calgary, 1978, dir. Rick McNair) has been her most successful play. In 2017, it was performed by Artists Collective Theatre and Attic Players in the Motel Theatre (dir. Amanda Liz Cutting, Arts Commons, Calgary), and by the same company at the C cubed theatre in London, and the Edinburgh Fringe Festival in 2019 (winner of best overseas production). In the summer of 1816, the poet Percy Bysshe Shelley, his mistress Mary Wollstonecraft Shelley, and Mary's stepsister Claire Clairmont visit the British poet Lord Byron at Villa Diodati in Geneva. Byron's other house guest is his physician and former lover Dr. John Polidori. Complicated sexual competitions ensue for Byron, who thoroughly exploits the situation, fuelled by the laudanum he and Percy Shelley are enjoying. Byron challenges the others to tell ghost stories, and then create a new one: Mary's is the germ of her famous novel, Frankenstein.
Other plays include: Ruth & Robert & Robert & Ruth, (FemFest, Winnipeg 2005, dir. Melanie Brouzes). This play "is a complex weaving of a relationship against the global and personal backdrop of violence. Ruth and Robert attempt to maintain a relationship that no longer makes sense in a world of violence that is encroaching more and more on their own daily lives" (www.womennet.ca/news).
For the CBC radio series Nightfall (1980-83, prod. Bill Howells), Baldridge wrote Servants of Cerberus. Her dance/drama in English and French, written with Deborah Zall, Bonne Dame: Remembering George Sand, premiered at the French Institute/Alliance Française in NYC, 1998 (dir. Harold G. Baldridge). The Sanitation Chronicles ( with Paul Brno) premiered at Theatre 54 @ Shetler Studios, NYC, 2007, (dir. Peter DeMaio) -- a "salty, dirty finger nailed, rumpled shirted comedy [which] takes place in a New York city Sanitation Department garage, [and] highlights the low lives of the invisible people that few pay attention to until they are on strike." (www.dramatistsguildweb.com)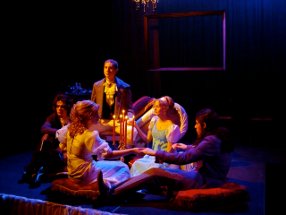 GENESIS: The Mary Shelley Play, 2007
The Revenge of the Dinosaur Lady was a finalist for the Mountain Playhouse International Comedy Playwriting Contest in 2009, and was produced in Washington State. Her one-act play, The Cold House was read at Neighbourhood Playhouse NYC in 2009.
Mary Humphrey Baldridge conducted the Playwrights Lab at The Neighborhood Playhouse, and was a Founding member of the Playwrights Union of Canada, now Playwrights Guild of Canada, and Lifetime Member of the Dramatists Guild NYC.
She was married to Harold G. Baldridge (d. 2015), with whom she had two children and four grandchildren.
Last updated 2022-01-01