Monty, Michel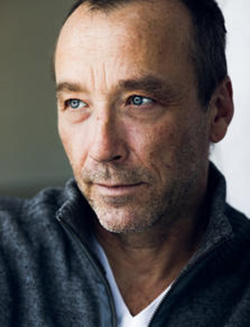 Michel Monty. Photo by Annie Ethier.
Quebec-based playwright/director/actor.
After graduating in 1989 from the Conservatoire d'art dramatique de Montréal, he went to London to study classical acting.
Since then, he has pursued a successful career in theatre and film, including acting in the premiere of Jean-Frédéric Messier's Le Dernier délire permis (touring with it to Ottawa, Paris, London and Belgium) and in Sophocles' Antigone at the Nouvelle Compagnie Théâtrale / Théâtre Denise-Pelletier.
He was also playwright in residence at the NCT and artistic director of Trans-Théâtre which has mounted his plays.
His works include: Accidents de parcours (1993, directed by the author and translated by Shelley Tepperman as Freak Accidents); Prise de sang (1995, the author); and the epic Exodes (1996, the author).
In 1999, he directed a revival of Gratien Gélinas's Tit-Coq at Théâtre Denise-Pelletier, and appeared in WC at Espace Go. A faithful collaborator with Théâtre de La Manufacture, Michel Monty has notably directed the French-language premiere of David Young's Inexpressible Island/Antartikos (2000); La société des loisirs by François Archambault; Gagarin Way by Gregory Burke; and Champ de mars by Pierre-Michel Tremblay; and three works by British playwright Howard Barker.
His recent creation, Le pensionnat was presented at Espace Libre in October 2008. He is also the co-creator of the Cabarets insupportables presented at Lion d'Or in 2007, 2008 and 2010.
Michel Monty has also written extensively for television and film, including Une vie qui commence, 2011.
Profile by Gaetan Charlebois and Anne Nothof
Last updated 2018-12-19