Ouimette, Stephen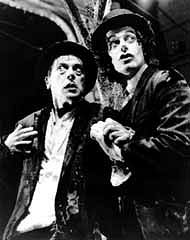 Ontario-based actor who has had a very distinguished career, but whose name is most closely linked to the Stratford Festival, where he has performed in a wide variety of roles since 1979. He studied at the University of Windsor
Among the many roles he has played with the Festival are Richard III, Grumio in Taming of the Shrew, Mozart in Amadeus, Estragon in Waiting for Godot (1996 and 2013), Hamlet, Aguecheek in Twelfth Night (2011), Octavius in Anthony and Cleopatra, the alchemist in Ben Jonson's play (2015), and a hilarious hypochondriac in Moliere's play (2016). In 2018, he played a deviously political Tribune in Robert Lepage's controversial interpretation of Coriolanus.
Ouimette received the Sterling Award in 1993 (La Bête, Citadel Theatre). He has received three Dora Mavor Moore Awards (1991, Seven Stories, Tarragon; 1987, B Movie; The Play, Shaw Festival; Danny and the Deep Blue Sea, Eran Productions, 1986).
Among other theatres in which he has played are the Vancouver Playhouse, Grand Theatre, London, Royal Alexandra Theatre, Manitoba Theatre Centre (Art , 1999), and Soulpepper Theatre Company (Mill on the Floss, 2000 and A Flea in Her Ear, 2001).
He has also worked in film and television, most notably as the ghost of an Artistic Director of a Shakespeare theatre festival very much like Stratford, in the CBC production, Slings and Arrows (2003-2006).
Profile by Gaetan Charlebois. Information provided by Lindy Cooksey; additional information provided by Roger D. Moore, Joel Greenberg, and Anne Nothof.
Last updated 2020-10-22