Hutt, Peter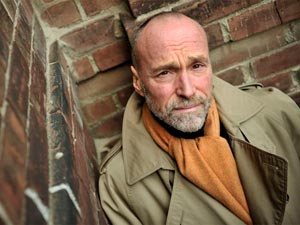 Peter Hutt
Distinguished and versatile actor, who has worked extensively at the Stratford and Shaw Festivals. He grew up in Iroquois Falls, northern Ontario and moved to Toronto in 1961. He currently lives in Niagara-on-the Lake.
He began his professional acting career at the Stratford Festival in 1975, remaining for four years, and returning from 1999 to 2002 and again in 2010. In total, he has performed with the company for sixteen seasons, including the roles of Antonio in The Merchant of Venice; Caliban in The Tempest; the Doctor in Cymbeline; the Old Man in Elektra; Oronte in The Misanthrope; Alonso in The Tempest; Buckingham in Richard III; Chauvelin in The Scarlet Pimpernel; William Shakespeare in Timothy Findley's Elizabeth Rex. In 2013, he played Escalus in Measure for Measure, Aubespine in Mary Stuart, and Brabantio in Othello. In 2014, he appeared in Antony and Cleopatra and Mother Courage; and in 2015 in The Taming of the Shrew.
In 1979, he began working with the Shaw Festival, and has performed in a wide range of plays, including Misalliance (1980), A Respectable Wedding (1980) , Dangerous Corner (1988), Berkeley Square (1989), Waste (1995), Rosmersholm. More recently he appeared in Lillian Hellman's The Autumn Garden (2005), Ann-Marie MacDonald's Belle Moral: A Natural History (2005), Shaw's Arms and the Man (2006) and The Philanderer (2007); as Reverend Winemiller in Tennessee Williams' Summer and Smoke (2007), and as Arthur Birling, whom Hutt describes as "a pompous, elitist and self-righteous industrial tycoon," in J.B. Priestly's An Inspector Calls (2008).
He has acted in theatres across Canada, including the Tarragon Theatre (The Children's Republic by Hannah Moscovitch, 2011), Manitoba Theatre Centre, Citadel Theatre, Neptune Theatre, Grand Theatre, London, National Arts Centre and Royal Alexandra Theatre.
His film and TV credits include The Age of Dorian, Forever Knight, The Taming of the Shrew (CBC), Breaking All the Rules, Echoes in the Darkness, and the acclaimed CBC television production of Elizabeth Rex.
He was nominated for a Dora Mavor Moore Award for Patience (Tarragon Theatre).
Peter Hutt is married to Shaw ensemble member Brigitte Robinson, with whom he has a son and a daughter. His uncle was William Hutt, the inspiration for his career in the theatre.
Last updated 2021-02-01