Professional Association of Canadian Theatres/PACT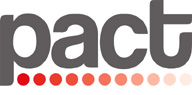 Organization established in 1976 to promote and gain recognition for professional theatre in Canada. Its head office is in Toronto, Ontario.
PACT is a member-driven organization that serves as the collective voice of professional Canadian theatres. For the betterment of Canadian theatre, PACT provides leadership, national representation and a variety of programs and practical assistance to member companies, enabling members to do their own creative work.
PACT currently provides services to over 140 theatre companies through the sharing of resources and knowledge and connecting theatres across Canada through open communications via the organization. It also develops working standards with theatre professionals and their associations, and currently negotiates labour agreements with four artist associations: ADC, APASQ, CAEA and PGC.
As part of its charter PACT has set out a series of "beliefs":
-- that theatre makes an essential contribution to Canadian life on every level: cultural, social and economic.
--that the experience of theatre should be readily accessible to Canadians.
--that theatre companies should be as diverse as the Canadian society they reflect.
--that people who work in the theatre are professionals who deserve supportive working environments - structured enough to provide security, but flexible enough to encourage creativity, afford risk and accommodate change.
PACT represents a broad array of Member and Affiliate companies from across the country, from the Belfry Theatre in Victoria, British Columbia, to the Mulgrave Road Theatre in Guysborough, Nova Scotia.
See also: Conseil québécois du théâtre
website: www.pact.ca
Last updated 2009-07-03