Bazinet, René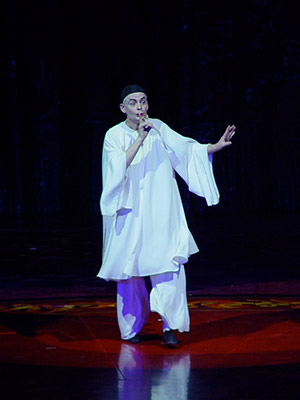 René Bazinet in Salto Natale 2008. Photo credit: Rouge Artistic Management.
Actor/mime/clown/director born in Germany, April 24, 1955.
René Bazinet studied at John Abbott College in Montreal Quebec, and at the École Jacques Lecoq in France before becoming a street-performer in Paris and Montreal. He also worked at established companies across Europe, including Venice's La Fenice, Opéra de Paris, Opéra de Nantes, and the Grutli Theatre in Geneva.
In 1992, he exploded onto the stage of the Cirque du Soleil, playing the Baron in the production of Saltimbanco. He then was brought into the Cirque team, becoming a coach and assistant director (Quidam 1996, and Zarkana 2011). He was the central character, Frac, in the Company's film Alegria.
Bazinet has gone on to shows of his own, including appearing in Divertissimo in Montreal (1999) and directing Burlesque at Berlin's Wintergarden (2000). He now focuses on teaching and directing, including the artists of the show Rhytmos de la Noche in Puerto Vallarta. He also gives mime and clowning workshops.
René Bazinet is an inspired mime and bruiteur and controls any stage on which he appears.
Profile by Gaetan Charlebois
Last updated 2020-03-25