Repercussion Theatre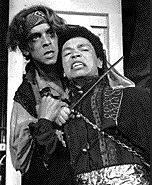 The 1996 Repercussion production of Romeo and Juliet
Open-air, anglophone, Shakespeare company based in Montreal, Quebec, founded by Cas Anvar in 1988.
Its mission is "to deliver professional, classically based, visually dynamic theatre that is accessible to all, regardless of income, culture, language, age or education" (website).
The company has become a major touring organization that presents its productions in different locations around Montreal, in Ontario and the United States. It also has toured schools and given some indoor productions, notably of Tom Stoppard's Rosencrantz and Guildenstern are Dead in 1992.
Its first production was A Midsummer Night's Dream which played four performances to 800 people. In the subsequent years it has played Macbeth, A Comedy of Errors, The Tempest, Much Ado About Nothing, Twelfth Night, Othello, Pericles, As You Like It, Taming of the Shrew, Cymbeline, and Romeo and Juliet (2010, dir. Jean Asselin, and Julius Caesar (2016).
The presentations are treated as summer family entertainment and many of the spectators look forward to this company's quasi-commercial fare each year. Repercussion Theatre now reach some 30,000 spectators a year in over forty performances. It raises funds from donations, from the spectators and commercial and government subsidy.
In 2001, the company was invited to play at the Shakespeare Festival of Dallas during its 30th anniversary festivities.
In 2007 Paul Hopkins was named the Artistic Director. Since 2015, the AD is Amanda Kellock.
Source: "Montreal thespians head south," The Gazette, Montreal, 20 March 2001.
Website: www.repercussiontheatre.com
Profile by Gaetan Charlebois and Anne Nothof.
Last updated 2016-08-30