Kennell, Ron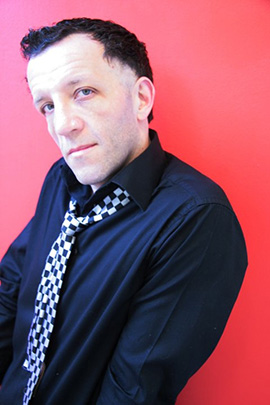 Ron Kennell. Photo by Trish Lindstrom.
Actor, born May 30, 1970 in Stratford Ontario, and graduated from the George Brown Theatre School, Toronto in 1992. Since then he has appeared with Modern Times Stage Company as Macduff and Duncan in its first production of Macbeth, and then played the lead role in Aurash in the Canadian premiere which in 2002 went on to the Fadjr Festival in Tehran, marking the first time a North American company presented a show in Iran since the Revolution in 1979.
Ron Kennell was also a member of the Stratford Festival Company from 2003-2008, where he played in ten of Shakespeare's plays including the acclaimed presentation of Timon of Athens ( dir. Stephen Ouimette), King Lear (dir. Brian Bedford), and Peter Hinton's The Swanne: Queen Charlotte - The Acts of Venus. He also premiered the role of Smerdyakov in Jason Sherman's adaptation of The Brothers Karamazov.
In 2009, he was invited to be a part of the National Arts Centreís 40th Anniversary English Theatre Company, performing in A Christmas Carol and Mother Courage, which went on to the Manitoba Theatre Centre.
Kennell presented the Inuit tale, A Promise is a Promise by Robert Munsch in the Arctic with Geordie Theatre. In 2011, he played Claire in The Maids at Buddies in Bad Times
He has been nominated twice for Dora Mavor Moore Awards, one for Picasso at the Lapin Agile (Canadian Stage) and one for Monsieur D'Eon is a Woman (Pea Green Productions).
Kennell has appeared in film and television, often as a dark or threatening character. He is writing a screenplay based on the Komagata Maru incident.
Last updated 2021-02-15