Rubes, Susan Douglas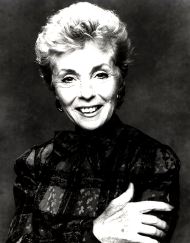 Susan Douglas Rubes
Actor, director, producer, born in Vienna, Austria in 1925 as Zuzka Zenta; died January 23, 2013, in Toronto at the age of 87. She emigrated to the United States at age 14 and began a career soon afterwards, choosing the name "Douglas" at random from a phone book.
Susan Douglas was soon acting on Broadway and television and made literally hundreds of television appearances between 1946 and 1959.
She married actor/singer Jan Rubes in 1950 and they moved from New York to Toronto in 1960 with their three young sons.
She was the founder of the Young People's Theatre/YPT (1966). She also headed CBC Radio Drama between 1982-86.
Susan Rubes was a member of the Order of Canada (1975). In 1988, the main stage of the theatre she built, YPT, was named after her. In 1990, she received the Toronto Drama Bench Award for Distinguished Contribution to Canadian Theatre.
Profile by Gaetan Charlebois
Last updated 2021-09-20