SaBooge Theatre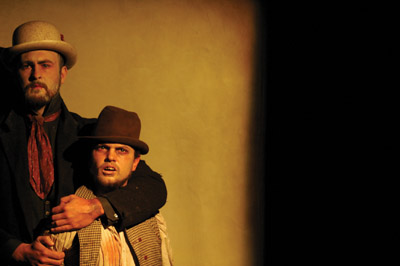 Every Day Above Ground L.to R. Graham Cuthbertson as Pat Garrett and Trent Pardy as William Bonney Photo by Simon Harding
SaBooge Theatre was a Montreal and Brooklyn-based international ensemble of North American and European artists brought together by their training at the Ecole Internationale de Théâtre Jacques Lecoq in Paris in 1999. It was dedicated to the creation of innovative and thought-provoking physical theatre that was visually striking and movement-based in its approach. The use of live music, foley effects and original sound design were also an essential part of SaBooge's work.
SaBooge was multicultural in its makeup, with core members from the US, Canada and the UK, as well as artistic collaborators from the Czech Republic, Ireland, France and Spain. The nature of SaBooge's work mirrored the cultural diversity upon which the company was founded.
Drawing inspiration from existing and historical sources from outside and within the ensemble, SaBooge conceived compelling and highly visual narratives that sought the revelation of humanity in the grotesque and the extraordinary -- the outsider, the outcast, the untouchable. Using these unexpected protagonists as a springboard, SaBooge worked outwardly in developing fantastical stories -- somewhat warped in their perspective -- infused with pathos and humour. SaBooge created six original shows that toured from Montreal to New York to Dublin.
in 2007, SaBooge completed a five city, three country tour of its adaptation of Michael Ondaatje's The Collected Works of Billy the Kid entitled Every Day Above Ground that culminated at New York's renowned avant-garde house P.S 122 in February 2007.
In October 2007 in Montreal, SaBooge was again Centaur Theatre's "Brave New Works" artists-in-residence with a new work entitled Speak Easy. The company also toured its multi-award winning 2004 piece Fathom.
The Canadian Artistic Director was Andrew Shaver. The American Artistic Director was Adrienne Kapstein.
Last updated 2018-09-20